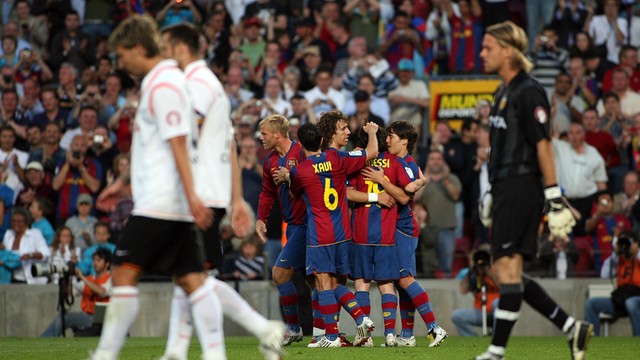 The last six times Barça have crashed out of the Champions League they have reacted with five wins and one draw
Results after Euro exits
2012/13 FCB v Betis (4-2)
2011/12 Rayo v FCB (0-7)
2009/10 Villarreal v FCB (1-4)
2007/08 FCB v Valencia (6-0)
2006/07 FCB v R Madrid (3-3)
2004/05 FCB v Bilbao (2-0)
Going out of Europe's premier club competition has come as a tough blow to Barça, but there is no time to dwell on that, because on Saturday at 8.00 PM CET there's a crucial league match to be played in Granada.
And if recent history is anything to go by, then FCB have never let disappointment in Europe dent their morale in the domestic championship. Following their last six European exits, the Catalans have responded with five wins and one draw.
Last year, FC Barcelona defeated Betis 4-2 after being soundly beaten by eventual champions Bayern Munich in the Champions League. A year before they responded in even more spectacular fashion to the pain of defeat to Chelsea, thumping Rayo Vallecano, 7-0 away
The year before that, Barça won their fourth European crown at Wembley, while the season before that, they had followed their nerve-racking European exit at the hands of Inter with a 4-1 win at Villarreal. In 2008, it was Valencia who were trounced 6-0 after Barça had been knocked out of Europe by Manchester United. And in 2005, Athletic Bilbao lost 2-0 at the Camp Nou after Barça's second round elimination at the hands of another English club, Liverpool.
The only recent case of Barça not bouncing back with a league win was the 2006/07 season, when the opposition was none other than Real Madrid. The teams drew 3-3 in a dramatic match that saw a young Leo Messi show just what a legend was in the making by scoring a hat-trick against the eternal enemy.