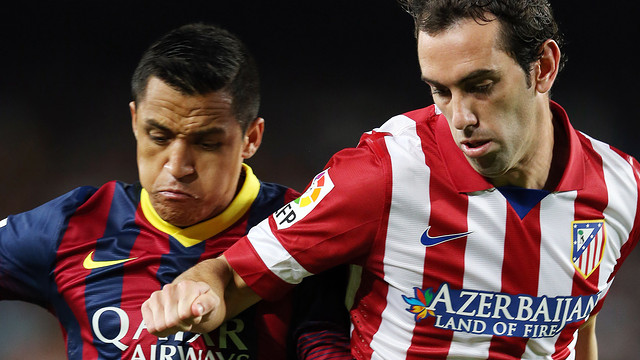 Barça are in the hunt for their seventh consecutive semi-final berth, while Atlético are back in the quarter-finals for the first time in 17 years
In all competitions, Barça have hosted Atlético at the Camp Nou 105 times. The record stands at 60 victories for Barça, 29 draws and 19 victories for Atlético
FC Barcelona and Atlético Madrid will face off this Wednesday evening (8:45 PM CET) in the Champions League for the first time ever, an occurrence that Barça fans were treated to in the last round of the competition when Barça took on Manchester City. The following is a list of interesting stats and facts about this evening's game:
Both teams have featured in continental competitions against Spanish opposition. Barça's record against teams from La Liga at the Camp Nou is four victories, two draws and three defeats from nine matches.
Atlético have played five European matches against Spanish opposition away from the Calderón. Their record stands at one victory, one draw and three defeats.
In all competitions, Bara have hosted Atlético 105 times. The Blaugrana have won 60 times, tied 26 times and lost 19 times.
Barça are 180 minutes away from clinching their seventh consecutive semi-final berth. This is the 16th time the Blaugrana have reached the quarter-finals.
In the quarter-finals of the Champions League, Barça have progressed to the next round 13 out of 15 times, while Altético have reached the next round three times out of their five quarter-final appearances.
The last time Atlético were in the quarter-finals of the Champions League was in the 1996/97 season, when they were eliminated by Ajax (4-3 agg).
Simeone will not be able to call on Raúl García, who is suspended. Insúa is one card away from missing the next match as is Cesc Fàbregas.
The Argentinian manager will cross paths with his compatriot Gerardo Martino. The two men played against each other when they were professional footballers.
In 1988, Barça's manager played for Newell's Old Boys and was given a red card for a tackle on Simeone, who played for Vélez Sarsfield. Coincidentally, Simeone was also shown a red card in the same game.
The following season both men featuring for the same teams. Simeone scored the winning goal in the first match of the season between the two sides (0-1) while Tata Martino scored the equaliser in the second game of the season (2-2).
The referee in tonight's match is the German Felix Brych; it will be his first game at the Camp Nou. He refereed the first leg of the 2012 semi-final against Chelsea (1-0) and this season's group stage match against Milan (1-1).
Felix Brych has also refereed two Atlético games. The Colchoneros won both of them, against Panathinaikos (2-3, 2009) and agains Vojvodina (1-2, 2007).