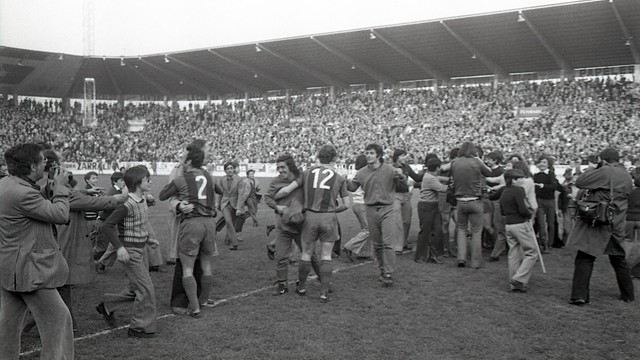 On April 7, 1974, Barça won their first league title in 14 years with a 2-4 win at the Molinon over Sporting Gijon
The team had dominated the season. leaving their rivals in their wake
Led on the field by the brilliant Johan Cruyff, Marinus Michels' side put in an awesome 73/74 league campaign, crowned by their famous 0-5 win at the Bernabeu and 40 years ago today they took the first chance to mathematically claim the title they'd been waiting for for 14 years with an epic comeback to beat Sporting Gijon at the Molinon.
Climax at the Molinón
On April 7 1974, Barça were due to play Sporting Gijon at the Molinon – knowing that a win would hand them their first title since Helenio Herrera had led them to the championship 14 years earlier. Barça were the favourites and clearly the better side on paper, but Quini leading the line, Sporting were soon showing they weren't going to be a pushover and although Rexach opened the scoring on 35 minutes, a penalty from Ciriaco at the start of the second half and a second goal from Leal (58) put the hosts ahead with 30 minutes to go. However, the Barça team were famous for their never say die attitude and a hat trick from Marcial (74, 80 and 88) in the last quarter of an hour gave Barça a 2-4 win and the league title.