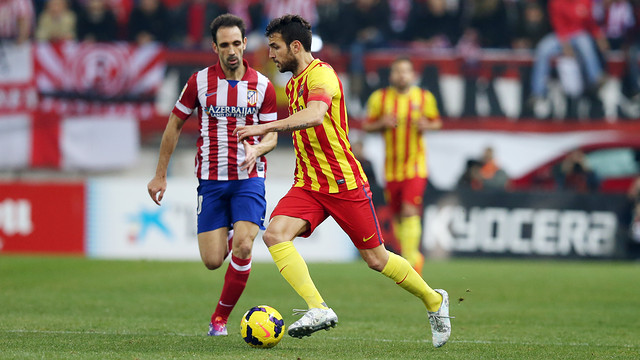 Four of Barça's last nine results at the Calderon would give them a semifinal place if repeated tonight and one would take the game into extra time
Barça are the competition's leading passers with 7,401 passes, 6,301 of which have been successful

Barça will have to win or draw 2-2 or more at the Vicente Calderon tonight if they are to make it into their seventh consecutive Champions League semi-final. On three of the previous occasions they've drawn 1-1 in the first leg, they've won the tie. Below are some more nuggets of information ahead of the game.
The last time Barça won a tie after drawing 1-1 in the first leg was against Fiorentino in the 1996/7 European Cup Winners Cup, when Couto and Guardiola scored to give them a 0-2 win.
Barça's biggest ever win at the Vicente Calderon came in 2007, when they won 0-6 with goals from Zambrotta, Eto'o, Ronaldinho, Iniesta and Messi (2).
Since that big win, Barça have travelled nine times to play Atletico – four of those results would see Barça through to the semis if repeated, four would send them out and one would mean extra time.
Howard Webb will ref tonight's game. Barça have won all three of their Champions League games the English ref has been in charge of, whilst Atletic have won one and drawn one game in which he's been in charge.
Simeone can count on Raúl Garcia, who was suspended for the first leg, whilst Insúa, Juanfran and Gabi are one card away from suspension, as are Iniesta and Cesc.
At the Camp Nou, Tata Martino's side made 688 successful passes against Atletico's 236
Barça are the competition's leading passers with 7,401 passes, 6,301 of which have been successful.
Marc Bartra made his first team debut at the Vicente Calderon: on February 14 2010. He also played in last season's league game in Madrid.
Neymar will also have happy memories of the Vicente Calderon, it was there that he scored his first goal for the team, in the first leg of this season's Spanish Super Cup.
Leo Messi also enjoys the trip to Atletico – he's scored nine goals on the ground(eight against Atletico Madrid and one against Bilbao in the 2012 Cup Final)