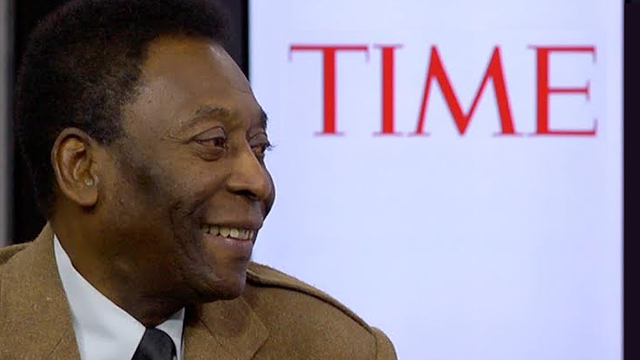 In an interview with Time magazine, Brazilian Pele legend was asked which team he'd most like to have played for
Although his own Santos team remains his first choice, in the modern era he'd have to pick FC Barcelona

Edson Arantes do Nascimento, aka Pele, is still considered by many to be the greatest footballer of all time. Speaking to Time magazine this week, he was asked which of the many great sides to have graced the game over the years he would most like to have played for. But for the 73 year old, there could be no choice other than his own Santos team, where he played from 1956 to 1974. Other than a short spell at the New York Cosmos, it the only club he ever represented.
Shared style
But 'O Rei' had more to say on the matter. "If you were to ask me about teams from now, from modern football" he said. "I could name two or three teams. But at this moment, I would say Barcelona. It's same style that Santos used to play."
The legendary Brazilian also told Time that he is convinced that if had been playing the game today, he'd have been a much better player than he was, citing better technology and training methods as the reason, as well as far stricter rules to protect players from injuries. Curiously, however, it is the United States where he thinks the game is making the best progress, where he feels modern-day youth soccer programmes are better than anything he has ever witnessed in Spain, Brazil and Argentina.
It's not the first time that Pele has expressed his admiration for FC Barcelona. In 2012, he told FIFA that "I've been watching this Barça side a lot lately and they're like Santos were in my heyday, or the great Benfica, Ajax, AC Milan and Real Madrid sides … Barça is the core of the Spanish team. There's a connection there, just as there was between Ajax and the Dutch national team all those years ago and between Santos and Brazil."
Pele v Barça
Though never in an official match, Pele faced FC Barcelona four times as a player. In July 1959, Santos beat an understrength Barça 5-1 in a friendly at the Camp Nou (with two goals from Pele), and a year later a Ladislao Kubala inspired Barça beat the Brazilians 4-3 (Pele again scoring for the visitors).
In 1963, Santos had just been crowned Intercontinental Cup champions for the second year in a row, and had supplied the core of the Brazil team that won the World Cup in 1958 and 1962. By now, Pele had become the biggest name in world football and of all the media attention was on him when his club came to the Camp Nou for a third meeting with FC Barcelona. But neither he nor his side performed as well as expected, and Barça won an ugly game 2-0.
Pele played Barça for the fourth and final time in a pre-season friendly played in Cadiz in 1974. Led by Johan Cruyff, the Catalans cruised to a 4-1 win against a Santos side that was but a shadow of its glorious past, with Pele on the verge of departure for the USA.