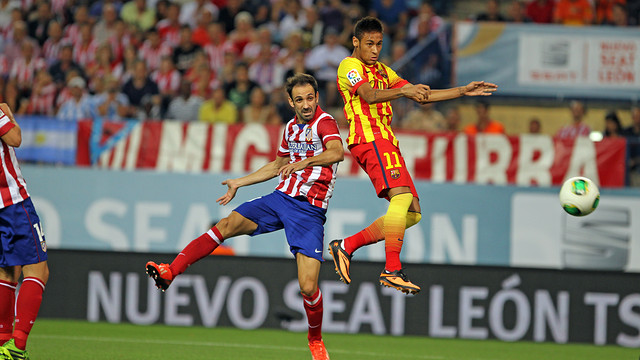 8.45 PM CET: Barça set to face Atlético Madrid at the Calderón after the 1-1 from the first leg
The Blaugrana will look to qualify for their seventh consecutive semi-final berth in the Champions League
Barça are without Valdés and Piqué, while the Colchoneros could be without Diego Costa
The Champions League quarter-final will be decided this evening at the Vicente Calderón. The tie is wide open after the 1-1 from the first leg played at the Camp Nou, the fourth draw between Atlético Madrid and FC Barcelona this season. The result from the first leg and the recent results between the two sides most likely means that we're going to have another close, hard-fought game this evening.
In fact, only four goals have been scored between the two teams in previous games this year. This time, however, Barça must score at least one goal if they don't want to be eliminated. Atlético, a team that's comfortable with its small advantage, seldom concedes chances. That's why one of the biggest objectives of Tata Martino's men is to take the lead early, something they have failed to do against Simeone's side this year.
Martino has named 21 players to the team for the game. Which is to say that all available players, including captain Carles Puyol, made the trip to Madrid. It's worth noting that Valdés, Piqué, Dos Santos and Cuenca are injured and won't feature against the Colchoneros. If Barça win, that would be their seventh consecutive semi-final berth in the Champions League.
Atlético Madrid will do everything in their power to stop the Blaugrana in their tracks. They will be aggressive, disciplined, and looking to score on the counter. However, Diego Costa's participation in the game is doubtful after he limped off the pitch in the first leg. "If Diego can't play, Adrian will," said Simeone in the pre-match press conference. It goes without saying, tonight's match is going to be a nail-biter.