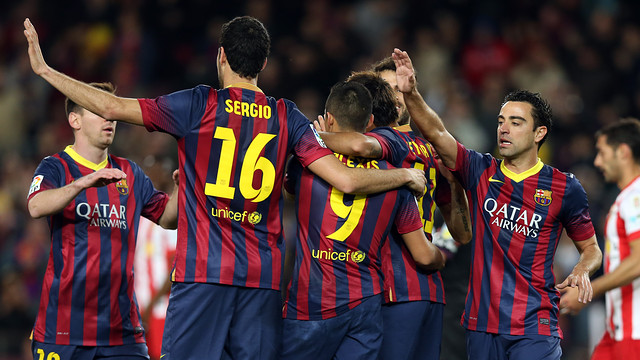 The midfielder says that "we're pleased with the win, even though we lacked a bit of spark to our play"
After the 4-1 victory against Almería, Sergio Busquets said that "the players were eager to play and win again" after last weekend's game away to Real Sociedad. "It wasn't our best match, but it was important to win the three points," he added.
Things to improve
Despite the win, Sergio didn't shy away from a couple of things he believes the team need to improve upon: "We didn't have that certain spark in our play, but we're content with our performance. We have to try not to concede goals from set pieces, but we aren't a very tall team so we know that this can happen."
The win over Almería, coupled with the draw in the Madrid derby, means that Barça are now just one point off the top of the table. "it was the best result for us, and we took advantage of it," he said.
Xavi, pleased with the first half
The man who scored Barça's fourth goal was also pleased with his team's victory this evening. Xavi Hernández said, "the fans should be happy with our first half performance. We passed the ball well and we have the impression that the fans liked how we played." He also said that the goal Barça conceded "destabilised the team." He added: "We were not as joyful or fluid in the second half, but we're sticking with our first half performance."
The following are comments made by some of the players after the match:
Alexis Sánchez:
"We had chances to score more goals, but Almería defended well."
"We secured three more points and now we're just one behind Real Madrid."
"The result from the Madrid derby was very good for us, but the most important thing is that we did our job well."
"We have to try and get the top spot of the table back as soon as possible."