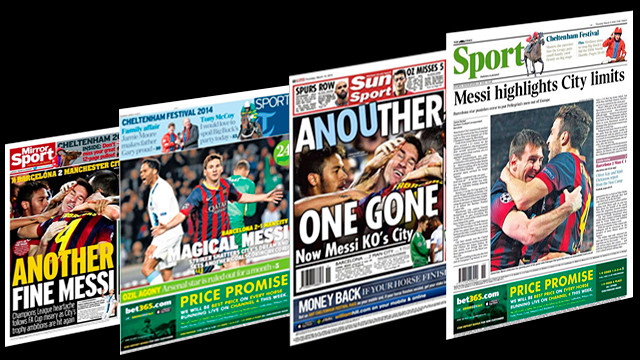 There were no complaints from the British press about Manchester City's defeat at the hands of Barça on Wednesday night, with most newspapers full of praise for a "magical", "mesmeric" and "untouchable" Leo Messi
For Daniel Taylor in The Guardian, "Messi tormented City at times. He was everywhere, always wanting the ball, and always knowing the right thing to do with it. Messi chose a good moment to remind everyone there really is no more electrifying sight in football than the four-times Ballon d'Or winner with the ball at his feet". The Independent also led with the Argentinean's performance, claiming: "magical Messi has a field day: brilliant Barca knock City out of the Champions League. The gulf in class was epitomised by Messi, whose 67th Champions League goal, scored in the 67th minute, takes him only four short of Raul's record.
The Daily Mirror reckoned that "Mesmeric Messi and anonymous Agüero" were " the story of Manchester City's Champions League exit", going on to claim: "Messi is magical to watch on nights like this, the ball glued to his left foot, making good defenders look like novices, drifting past them as if they are not there" For Oliver Holt: "The Argentine was untouchable, making a mockery of the pre-match concerns he was enduring something of a personal crisis this season. He tormented Lescott and Kompany all night. City missed chances and never stopped pressing forward but the scoreline flattered them".
The British press also stressed the importance of the result for Barça, given recent speculation about a dip in the team's form, with Matt Dickenson in The Times writing: "This is how a crisis looks at the Nou Camp; a stepover from Neymar, a feint from Andrés Iniesta and, that most delicious sight of all, a bewitching dink from Lionel Messi to lift the crowd off their feet and put Barcelona in the Champions League quarter-finals. If this is the end of a glorious era in Catalonia, it comes with silver linings galore". An opinion shared by Henry Winter in The Daily Telegraph, who simply stated: "with Neymar, Messi and Iniesta passing, moving and threatening in attack, with Xavi and Cesc Fabregas creating in midfield and with Alves and Jordi Alba attacking down the flanks…. reports of Barcelona's demise were clearly exaggerated".