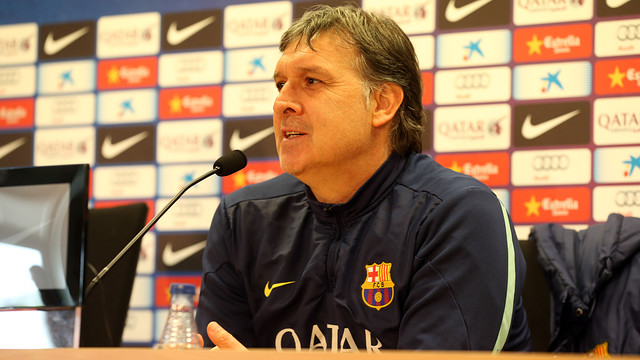 The Barça manager told a press conference today: "The team is very self critical, both the players and the coaching staff"
Martino remains upbeat about Barça's title hopes: "The league title is still in our hands but we need to win all our matches and play well"

Gerardo 'Tata' Martino gave a press conference on Saturday ahead of Sunday's league clash with Almeria in the Camp Nou (kick-off 9 pm). Following on from last week's defeat to Real Sociedad, he revealed. "The result in the Anoeta puts more pressure on us against Almeria. It's been a bad week, the same as it always is after a bad result". Asked by reporters to comment on some of the critical remarks made about him following that slip-up, he insisted: "It's not for me to judge either the criticism or the praise".
"It's in our hands"
However, Martino is confident about the team's possibilities: "The league title is still in our hands but we need to win all our matches and if we play well, we'll have a better chance". "The team is very self critical, both the players and the coaching staff, and that's why I have complete confidence in a good reaction".
[[CITA_1]]
Martino also pointed to the positive comments made by some of the players during the week: "What they said was a synthesis of the way the players work. They're a really solid group".
A few hours before the game kicks off against Almeria, Atlético Madrid will take on Real Madrid in the Vicente Calderon. However, Tata Martino believes it's up to Barça to beat Almeria and not be distracted by the Madrid derby: "If we do our job and win, any of the three results in the derby can be favourable for us".
[[CITA_2]]
In the mix for three titles
The Argentine coach believes Barça is in a good position to fight for the three main titles, especially as many of the key players are coming into a good run of form: "What matters right now is that we've got to March with a good chance in the three competitions. When the team plays well, that helps the individual to shine".
Finally, he insisted that it's up to the team to attract the fans to the stadium: "I don't like asking the public for anything. What we have to do is to give them reasons, week after week, to come to the stadium".
What they said was a synthesis of the way the players work. They're a really solid group
What matters right now is that we've got to March with a good chance in the three competitions