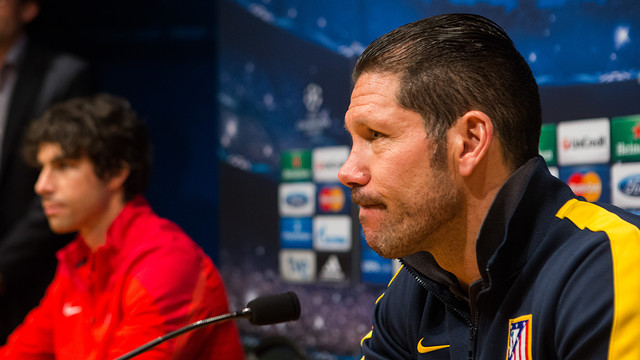 "Of all the games we've played against them this season, this one is the most complicated and difficult one," says the Atlético Madrid manager

Atlético Madrid arrived in Barcelona this afternoon and trained at the Camp Nou ahead of tomorrow's Champions League clash with the Blaugrana. Before the training session, Atlético manager Diego Pablo Simeone, who was accompanied by Tiago, held a press conference in the Ricard Maxenchs press room.
This Tuesday's match will be the fourth game of the season between Barça and Atlético: "Of all the matches against Barça this season, this is the most complicated and difficult one. We're going up against the best Barça. It's the Champions League, and they will want to wrap up the tie here," said Cholo Simeone. "Barça are playing very well. The match against Madrid gave them a lot of strength. They are a team that's prepared for this type of game because they are used to it."
When asked about which team is favoured to go through, the manager echoed the words said by his player Gabi. "If we say we're favourites we're arrogant, and we're victims if we say that they are. We're here to compete. It's a good and important tie." Simeone also explained that he won't apply too many tactical changes and that the team he'll send out "will be very close to the ones I've used recently." The midfielder Tiago added that he expects both teams to play their own style of football: "They will have a lot of possession and we'll be well organised and look for our goal. We're preparing for a game against a Barça side that has a lot of very good players. We'll do our best with what we have."
Diego Costa pulls out of training
The last time David Villa played at the Camp Nou was in August, in the second leg of the Spanish Super Cup. He did it in the Atlético strip and he'll most likely feature against Barça again on Tuesday. Today he trained at the Camp Nou alongside his team-mates, while Diego Costa retired from training 15 minutes after the session had started.