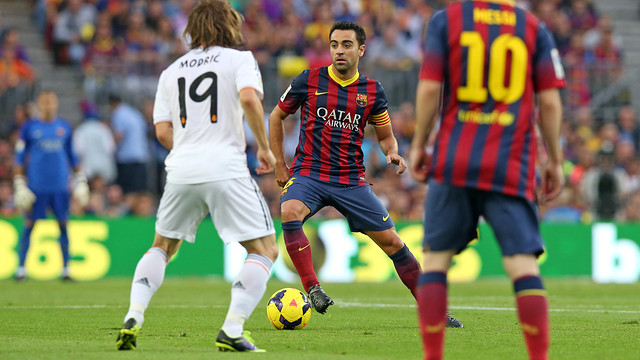 The two most prolific league goal scorers, Real Madrid (77) and Barça (81), go head to head in the Bernabéu
The referee for the match, Undiano Mallenco, has yet to show a red card so far this season
Barça needs to close the four-point gap that separates them from top spot in the league and is obliged to go for a win in the 'clásico' this Sunday in the Santiago Bernabéu (9 pm, Canal+1). Here are some of the background facts to the big game:
• Barça has scored 81 goals and conceded 22, while Real Madrid has scored 77 and conceded 26. Nearly a quarter of Barça's goals (19) have come just before halftime while just over a quarter of Real Madrid's goals (20) have been scored in the final fifteen minutes.
---
• The match also features the two best goal providers in the league: for Barça, Cesc Fàbregas (12) and for Real Madrid, Bale, (11).
---
• The last time Carlo Ancelotti's team was beaten was earlier this season in the Camp Nou, thanks to goals from Neymar Jr and Alexis.
---
• Barça and Real Madrid have the second and third best defensive records in the Spanish league, conceding 22 and 26 goals respectively. Atlético Madrid tops the ranking, having let in just 21 goals.
---
• Barça is the passing maestro in the league, with 18,502 passes, 88.6% of them completed. Real Madrid is second, with 14,921, 85.7% of them completed.
---
• Both FC Barcelona (11-11) and Real Madrid (13-13) have conceded the same number of goals in each half.
---
• Neymar Jr (61) for Barça and Cristiano Ronaldo (49), for Real Madrid, have suffered the most fouls.
---
• Xavi Hernández heads the passes ranking for the league (2,030 passes, 1,584 of them in attacking positions). Real Madrid's best player in this aspect is Luka Modric (1,548, 1,060 in the opposing half).
---
The referee for the match, Undiano Mallenco, has yet to show a red card so far this season