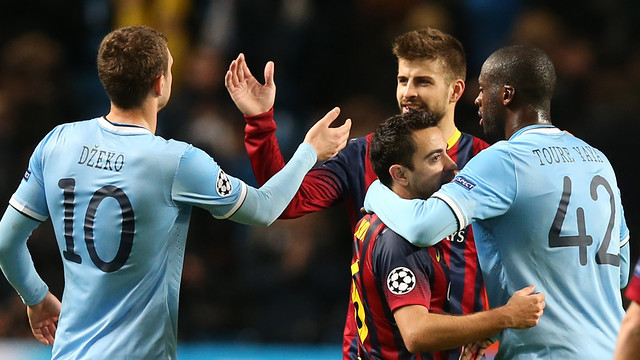 The Chilean manager sat down with Manchester City's web department to talk about the upcoming match against FC Barcelona at the Camp Nou
"I don't have any doubt that we are going to go to Barcelona thinking that we can do it, that we can beat them at the Camp Nou and we will try to have our revenge there," says Pellegrini
In an interview conducted days prior to the second leg of the Champions League knock out round at the Camp Nou, Manchester City manager Manuel Pellegrini sat down with mcfc.co.uk to give his impressions on the upcoming showdown with FC Barcelona.
When asked about the result from the first leg (0-2) and how he fancies his team's chances of progressing to the next round, Pellegrini said: "It's difficult, of course. I think the game we played here was a very close until the penalty and send off by Martín Demichelis. Of course playing against Barcelona with one less player is not easy." He added: "I don't have any doubt that we are going to go to Barcelona thinking that we can do it, that we can beat them at the Camp Nou and we will try to have our revenge there."
The Chilean continued by talking about his past in La Liga and his accomplishments at FC Barcelona's stadium. "The Camp Nou is always full, it's a big pitch also – it's a very difficult stadium," he said. "I won with Villarreal at the Camp Nou, I tied there with Malaga … it's a very important game for both teams, they have the advantage of two goals and maybe they can work more with the tempo and the pace of the game. We will try to have the tempo we need to score goals but we'll see what happens on Wednesday."
What are the key battles at the Camp Nou?
Looking ahead to the match in Catalonia, Pellegrini highlighted what he believes to be the biggest aspects of the game his men will need to control in order to make it to the quarter-finals. "First, as in all important games, it's the individual performances of the players – they have very good players, we also have very good players. The second thing is if we can score a goal early, I think that could make Barcelona a little bit more nervous." He added: "There are so many things in big games that it's very difficult to know what the key [battles] will be."
Despite the 0-2 defeat at the Etihad, the Chilean is convinced that his men can turn the tie around at the Camp Nou. "We can do it and we have a lot of trust to try to do it. If we have a good day I'm absolutely sure that we can do it," concluded Manchester City's manager.
Watch the interview in its entirety here.