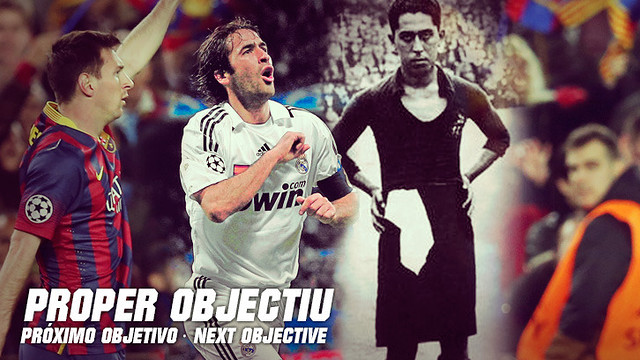 The Argentinian is one goal away from becoming the top goalscorer in Barça's history
He is also only four goals away from becoming the top goalscorer in the history of the Champions League
With his goal against Manchester City in the return leg of the last 16 of the Champions League, Leo Messi is getting close to two milestones that can only be associated with a football superstar. Paulino Alcántara and Raúl González are the next two objectives for the four time winner of the Golden Ball.
Two seasons ago Leo Messi became the top galscorer in FC Barcelona history in official matches, overtaking the stats of César Rodríguez. He is now only one goal away from becoming the top Barça goalscorer of all time in all games (official matches and friendlies). He has scored 368 goals for the Barça first team, one less than the current record holder, Paulino Alcántara.
This striker, born in the Philippines, scored 369 goals in 357 games as a Barça player between 1912 and 1927. He was known as 'the net breaker' and usually played with a white handkerchief hanging from his shorts.
European Leadership, so close
On the other hand, Leo Messi is also very close to also becoming the top goalscorer in the history of the Champions League. That honour is in the possession of Raúl González, who, since 1995, scored 71 goals. Messi has scored 67. However, Messi is the top goalscorer in the Champions with only one club. Raúl played in the top European competition for both Real Madrid (66) and Schalke 04 (5).
This is the tenth season that Leo Messi has played in the Champions League, and in four of those seasons he was the top goalscorer: 2009, 2010, 2011 and 2012. In the current season's Champions League he's scored eight goals in only five matches played.