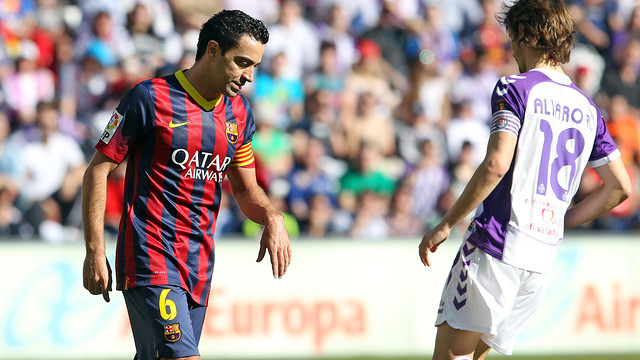 FC Barcelona have lost to Valladolid and miss out on the chance to become provisional league leaders
Saturday afternoon saw FC Barcelona lose their fourth league game of the season. Relegation-troubled Valladolid beat the defending champions 1-0 thanks to a solitary goal from Fausto Rossi in the 16th minute, and it was an especially painful defeat because it denies Barça the chance to go back to the top of the table, at least provisionally, to add to the pressure on Real Madrid, who host Levante on Sunday. Today's substandard display also means that Barça's destiny in the championship is no longer in their own hands. All in all, it was a disappointing day for the club and a disappointing performance from the team.
Rossi scores
FC Barcelona wanted to control the game at the Nuevo José Zorrilla right from the start, but the intensity shown by Valladolid, who are also desperate for points albeit for very different reasons, prevented the visitors from finding their rhythm. In fact, it was the home team that generated most of the danger for the first 25 minutes, and the violet-and-whites made good of it just after the first quarter of an hour when the Barça defence failed to clear a loose ball from the area and the Italian on loan from Juventus, Fausto Rossi, pounced on the chance to make it 1-0.
Barça improved as the half went on, with Leo Messi and Cesc Fàbregas both having chances, but goalkeeper Diego Mariño had little trouble dealing with them. The Catalans finally looked to be imposing their game, but were committing an uncharacteristically high number of unforced errors and for much of the game but a shadow of the side we have come to expect.
Lack of ideas
There was a marked improvement after the break, with both Messi and Neymar squandering excellent chances to get the score back level, but for long periods FC Barcelona simply couldn't get things to connect. The play down the wings wasn't working, Messi was struggling to hold onto the ball, and not even sending Alexis on for Cesc to boost the attack seemed to produce many opportunities to turn the game around.
There was lack of ideas in throughout Barça team and a lack of depth to their play, while Valladolid were excellently poised to deal with everything that was thrown at them, and looked so dangerous on the counter attack that there was a very threat that they could even extend their lead. The defeat, their third in just six league games, has put a serious dent in Barça's title bid.