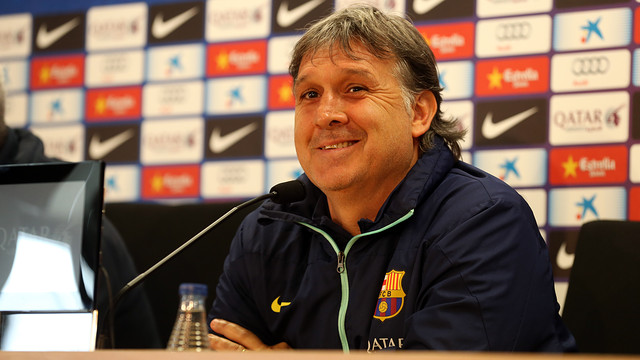 The manager has confirmed President Bartomeu's comment that he intends to respect the terms on his contract
"A lack of concentration, and not maintaining our level of play and intensity, would put our potential for winning titles at risk" he added
Gerardo 'Tata' Martino spoke to the media on Tuesday, a day before the home league fixture with Celta. He did so shortly after president Josep Maria Bartomeu had announced that "Martino has told us that he wants to see out his contract". The FC Barcelona manager confirmed Bartomeu's words by saying that "I always respect my contracts".[[CITA_1]]
Asked how the team is feeling in the wake of the clásico at the Bernabéu on Sunday, Martino replied that "it is important for us to be in the right frame of mind for this run-in to the end of the season, and we are still competing on all three fronts and finding our form, so it's all positive. We have to make the most of what we achieved at the weekend, because it has put us back in contention for the league title".
Against Celta "I am not worried about the team playing without the required intensity. We have gone through a difficult period but have managed to get back into the title race, so I don't doubt that they'll have the right attitude … We want to play our very best football and keep performing as well as did at the weekend … A lack of concentration, and not maintaining our level of play and intensity, would put our potential for winning titles at risk". He singled out 'consistency' as the most important goal going into such a decisive stage of the season, the lack of which he believes is the reason why the team is not better situated in the league table".[[CITA_2]]
Martino appeared stunned that the aftermath of Sunday's clásico has focused so much on the refereeing rather than what he considers to be far more important issues. "There was so much football to be spoken about after that match" he said. "Yet hardly anything has been mentioned". Asked about his first impressions of playing at the Bernabéu, he said "when I got there, I thought 'what a lovely ground', and when I left I breathed a huge sigh of relief." He compared the experience to one in Argentina between Newell's and Central, a huge derby in his home country that also ended 4-3. His side went on to win the championship "and I just hope that this league ends in the same way for Barça" he added.
He also commented on Champions League quarter final opponents Atlético Madrid, describing them as "one of the two or three best teams in Europe. They are a difficult team for anyone to have to play against."
Hem d'aprofitar el que hem fet aquest cap de setmana que ens ha permès reinserir-nos en la lluita pel títol
El partit de l'altre dia dóna molta tela per parlar de futbol i se n'ha parlat poc