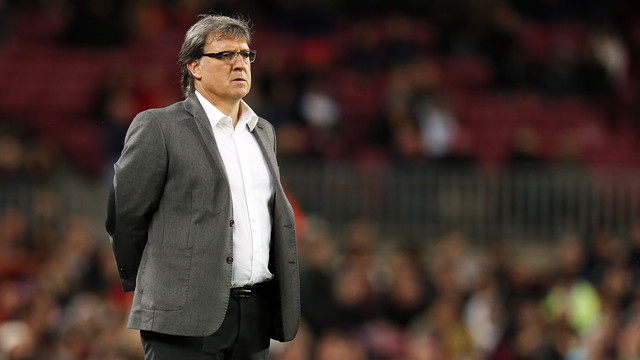 He admits "at this point in the season I thought that everything that was going to happen to us had already happened"
Gerardo Martino lamented the serious injury Víctor Valdés picked up against Celta this Wednesday evening. "It's a very hard blow, but this team has lived blow to blow for a long time and we will move forward," declared the FC Barcelona manager after the match. He admitted that at "this point in the season I thought that everything that was going to happen to us had already happened."
Martino explained that the team has "experienced these types of things many times this season" in reference to Dos Santos, Cuenca and Afellay and the long absences of Messi, Neymar, Jordi Alba and Puyol. Valdés had already missed eight matches this season due to injury.
No excuses
Despite Valdés' injury, Martino said that the Club will not sign a new keeper this season as long as Pinto and Oier stay healthy. He added: "Independently of the pain that this news brings us, I will not use it as an excuse."
On the match against Celta, he said that he's happier with how his men played in the first half than in the second. "I liked the first half. We maintained possession, we passed well, we went deep and we had pace. I didn't like our second half but I don't want to go overboard with my analysis because the game was marked by an action (Valdés) that really hurt us," he said.
Lastly, the manager admitted that "it was necessary to ratify our good form after the Clásico." At this point Barça have won 72 points. Next stop, Cornellà-El Prat.