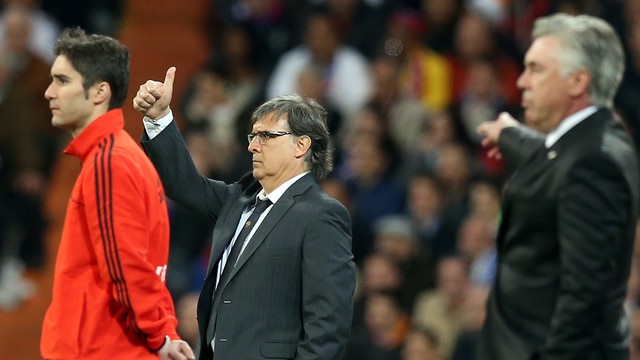 He emulates his predecessors Guardiola, Rijkaard, Van Gaal and Venables
Tata Martino's debut at the Santiago Bernabéu couldn't have been better as he came away from his first match in Madrid's stadium with a victory. He joins a select group of Barça managers that won their first game at the Santiago Bernabéu. His predecessors are Pep Guardiola (2-6 in the 2008/09 season), Frank Rijkaard (1-2 in the 2003/04 season), Louis Van Gaal (2-3 in the 1997/98 season) and Terry Venables (0-3 in the 1984/85 season).
It just so happens that Barça finished ahead of Madrid in each one of those seasons, and in addition, Barça went on to win the title, with the exception of Frank Rijkaard in the 2003/04 season.
Solid in big encounters
Therefore, Martino once again comes out of a difficult away match reenforced: the Super Cup won at the Calderón (1-1), the Liga games against Valencia (2-3), Sevilla (1-4) and Atlético Madrid (0-0); while in the Champions League Barça stepped up their game against Manchester City (0-2). In the big matches away from the Camp Nou, the team managed by Tata Martino come up big.