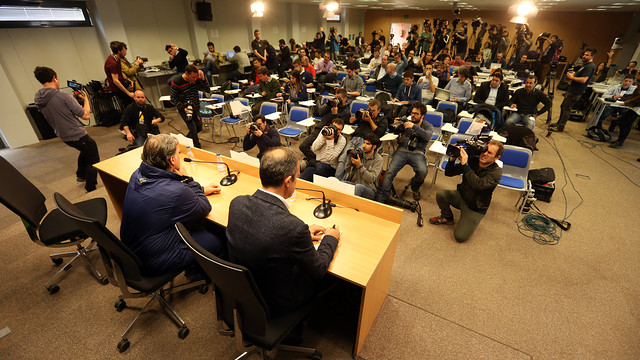 "The last thing I want is for us to play a chaotic game. We have to play with confidence and order".
Going into the fourth game against Atletico Madrid this season – following the draws in the two Spanish Super Cup games and the league trip to the Calderon, Gerardo 'Tata' Martino is well aware of the difficulties Simeone's team pose – "they are strong and confident domestically and in Europe". On the eve of Tuesday's game, the boss believes "the key to winning the game will be in matching the intensity that they bring to the game. We have to have the confidence in our ability to play an ordered game – if we play as we can then we have a great chance of going through".[[CITA_1]]
Martino warned his players: "we have to be careful about giving the ball away and leaving spaces for them to hit us on the counter. I'm not expecting an open game, but Atletico will come and look to score for the away goal. We have to make sure that we win and also that we don't concede – that will give us a degree of confidence going into the second leg".
Iniesta, Neymar and Xavi

Andrés Iniesta and Víctor Valdés both insisted before the Clasico that the team needed to be brave to get a win and Martino made it clear that the same is true for Tuesday's game: "without bravery, these guys wouldn't have won and nor would they be where they are now. I know I can count on them to be brave again". The boss went on to compare Iniesta and Arda Turan: "they know what is needed at every moment in a game and they know how to make the right choice. It's hard to find a player to compare to Andrés. He's one of those unique players who sometimes appear".[[CITA_2]]
Martino also explained Neymar: "can be decisive in all three roles upfront" and that Xavi: "is coming into the end of the season in great form and that shows that the rotations we've done have worked"
We have to have the confidence in our ability to play an ordered game
without bravery, these guys wouldn't have won and nor would they be where they are now