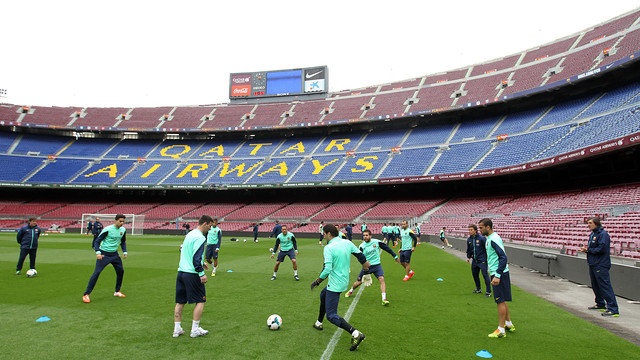 The 18 players called up by Tata Martino for this evening's match against Celta trained today at the Camp Nou
This lunchtime, the Barça first team had their last training session in preparation for the match this evening, at 8p.m., against Celta de Vigo. For this game, Gerardo 'Tata' Martino has called up 18 players, leaving out Xavi Hernández, for technical reasons. Also missing are Montoya, Afellay and Oier, as well as the injured players, Puyol, Cuenca and Dos Santos.
The last session was carried out at the Camp Nou, with all 18 players called up, plus goalkeeper Oier. Following the session the team went to the Hotel Princesa Sofía, where they'll stay together until about two hours before kick-off.