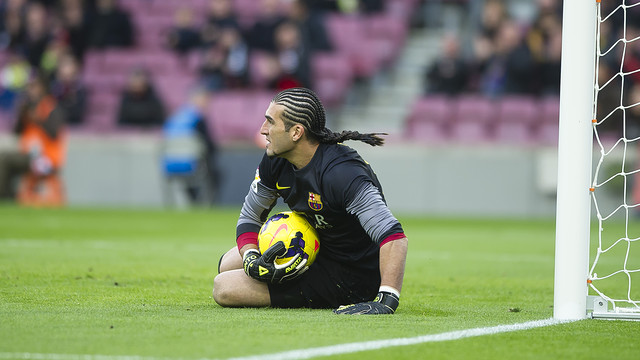 Víctor Valdés' injury brings a new opportunity for the reserve goalkeeper to show how much he can be depended on to deliver when needed
The unfortunate injury to Víctor Valdés means José Manuel Pinto and Oier Olazábal are the only first team goalkeepers available to Gerardo Martino for the final stretch of the season. Pinto is the most probable choice to don the gloves for the rest of the campaign, and in the 15 games he has already played this season, he had proven himself more than adequate for the job.
Valdés picked up a muscle injury playing for Spain in November, and his place was covered by Pinto for eight games through to the end of 2013. Barça won six of those games and lost two, conceding eight goals.
As in previous seasons, Pinto has also been the regular first choice goalkeeper in the Spanish Cup, for which the club is already through to the final. He then came on against Celta on Wednesday night, and made three particularly important saves.
In 2013/14, José Manuel Pinto has played a total of 5 league games, 8 cup games and 2 in the Champions League, letting in eleven goals, less than one a game.
79 matches and 62 goals conceded
38-year-old Pinto has played just shy of eighty official games for FC Barcelona since arriving in January 2008 as a replacement for the injured Albert Jorquera. For his entire period at the club, he worked in the shadow of first choice stopper Víctor Valdés, but he has always been ready to deliver when called upon. In just over six years at FCB, he has played 79 official matches, with an excellent record of just 62 goals conceded.