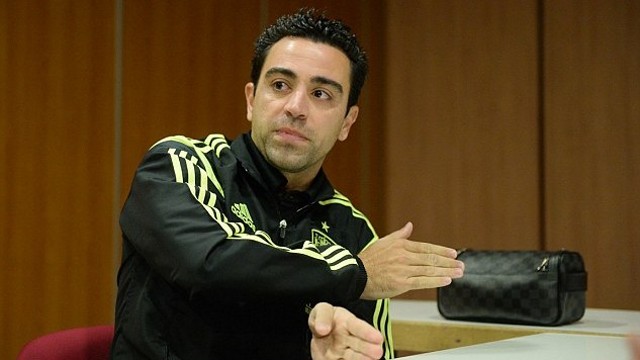 In an interview published in today's Daily Mail, Xavi has spoken about his admiration for English football, but doubts he'd ever play for a Premiership club
His future will always be tied to FC Barcelona, and he even admits to loving the idea of one day managing the team
Today's edition of the Daily Mail features an exclusive interview with Xavi Hernandez, in which the questions are asked by former Liverpool player Jamie Carragher. Among other things, the Barça midfielder was quizzed about the current situation at Barça, Spain's World Cup hopes and his plans for the future.
City and Barça
The interview begins with Xavi being asked about his impressions of current Champions League rivals Manchester City, and agreed with Carragher that Pelligrini's approach to the first leg was somewhat unexpected. "They have players for a style more like Barcelona so it was a bit of a surprise" said Xavi. "They weren't defensive but they were sitting back. Pellegrini's teams normally want the ball and to take the game to the opposition."
In fact, Xavi sees several parallels between the famous Barça style and that employed by Man City. "They have players like Yaya Toure, Nasri and now Navas and Negredo who are top-quality footballers who play the game the right way" he commented. "But it's another thing when they come up against Barça as we have seven or eight players of our own who hardly ever give the ball away."
Are Barca past it? No. We're still great!
Although Carragher puts the Barça team of the last few years up there with "Johan Cruyff's Ajax, the AC Milan team of Arrigo Sacchi back to Di Stefano's Real Madrid," he is also concerned that that era is drawing to a close, pointing to the 7-0 aggregate defeat to Bayern Munich last season as the prime indication. On that match, Xavi says "there is no question we were not at our best. We arrived at that point of the season tired. The big difference was that Bayern had a massive physical advantage on us and the result was huge," but he refuses to accept that the loss marked the beginning of the end for the current team. "Barcelona can carry on winning trophies" he insists. "This is a spectacular crop of players. Look at the ages of the players: Fabregas, Messi, Iniesta, Alves, now Neymar, Jordi Alba and Pique – they are all around 26, 27, 28 29 years old. That's a great generation of footballers."
Jose Mourinho would seem to disagree, but Xavi laughed off the mention of the Chelsea manager's recent comment that this is "the worst Barcelona side in many, many years." Says Xavi, "Mourinho has a different style. It's not the same style as Barcelona. He plays in a more defensive style and I respect that. But it's to be expected that he doesn't like our football. He has never liked Barcelona's style. Not just now but even five years ago."
Xavi on English football
Carragher wondered whether Xavi has ever been tempted to play in England, and the Barça player did admit to being a huge fan of the English game. "Manchester, Liverpool, the supporters, you can't hear yourself in the stadiums. It's fantastic. When I go to England, I get the feeling that you are part of football history" he explains. "It's quite sensational. They are a real example, how they behave, the desire to win, the fans, it's a big event, everything is like you're in a film. In England there is a lot of respect for professional footballers, in the Latin Hispanic world, less so. People respect players a lot more over there than they do here and that's why I think so highly of it."
But despite this admiration for English football, Xavi thinks it's highly that he'll ever move to the Premiership, or anywhere other than his current club. "I'm Barcelona through and through and have always wanted to stay here" he insists.
The interview ends with perhaps the most interesting comment of all. When asked whether he can see himself managing FC Barcelona one day, Xavi quite openly accepted that it's very much a possibility. "I'd love to" he said. "I'd like to remain in football forever. It would always have to be with Barcelona. That's where my heart and feelings are."
Read the complete interview