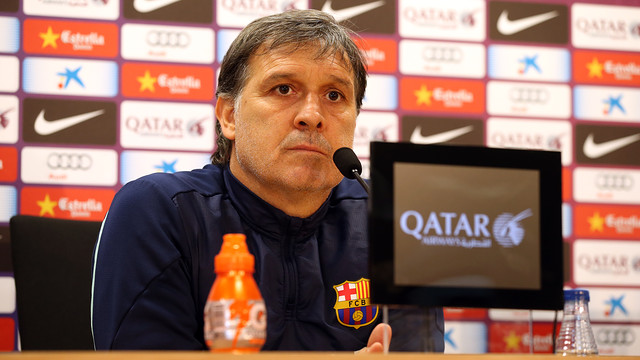 The Argentinian manager is aware that the team cannot afford a repeat of the poor display at Valladolid"
"We have to get through the game with Osasuna and then we'll have a whole week to think about Madrid" he says
Gerardo Martino told his press conference on the day before the game with Osasuna that Barça "have to change their image shown against Valladolid … but we will still have plenty of chances to keep battling, even though things may not be in our hands anymore. So there's no doubt that tomorrow's game is a very important one." The next game after that will be away to Real Madrid on Sunday March 22, but Martino preferred not to discuss that one quite yet. "We have to get through the game with Osasuna and then we'll have a whole week to think about Madrid" he insisted.
Always motivated
"I have never felt the need to motivate the players" he continued. "They are used to playing a lot of matches, different types of tournament, decisive moments, 38 match competitions … I have never had to put pressure on them to be motivated. People have to believe that they're going to see a great Barça team and we'll put on a top show for them".
But there is no getting away from the fact that Real Madrid have a four-point lead on the Catalans. "When we say matters are not in our hands, it's because three points would not be enough to catch them in the table" he said. "But if you remember that there are still 30 points to play for, then there is still time to make up the difference".
Neymar and centre backs
Asked about Neymar's role and performances, Martino insisted that the Brazilian is still struggling to find his form after injury, also adding that "he has played best on the left of attack and as centre forward. But he has no trouble adapting to any position."
He was also asked what he plans to do this weekend, now that both Puyol and Piqué are out through injury. Martino replied that there is no cause for concern, for his still has two other natural centre backs to call upon, Mascherano and Bartra, and that if needed, any of Adriano, Busquets or Song could also cover for that position.