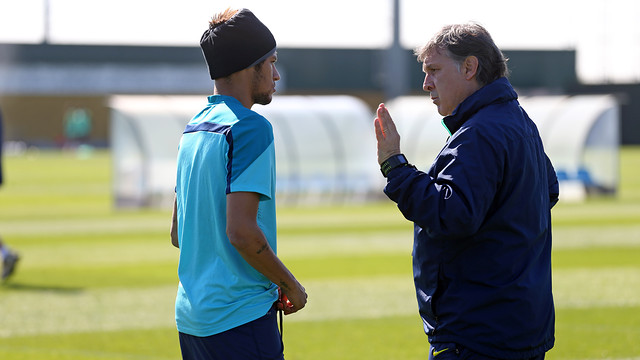 There hasn't been much time to prepare for the game against a Valladolid side that the FC Barcelona manager knows are strong at home
He described Puyol as 'irreplaceable' but admits that his team is going to need to find a new centre back

In his Friday lunchtime press conference, Barça manager Gerardo Martino admitted that he always feels worried before a match, whatever the circumstances. And Saturday's trip to Valladolid is clearly no exception. "I'm worried because of who the opposition are" he confessed. "They are struggling against relegation and have only won four home games, but then again, they have only lost two. They're strong at home".
Alba's absence
He is also troubled by the fact that "it has been a very short week. Most of the players didn't get back until Thursday and some not until Friday. We have only been able to speak on the day before the game, but those are no more than excuses. We have to focus, play well and win."
He was asked why he has left Jordi Alba out of the squad, and in response explained that "Alba was feeling a bit of pain before the Almeria game. I didn't think he looked ready and left him on the bench. But he played 90 very good minutes for Spain. However, we have four games ahead of us in just two weeks and I don't want to overwork him. That would be a bit imprudent".[[CITA_1]]He was also asked about Alves and Neymar, who only got back on Friday after a long trip to South Africa with the Brazilian national team. "Alves played 33 minutes and Neymar the full 90" said Martino. "I wanted to speak to them and find how what condition they have come back in."
Replacing the irreplaceable
Martino also spoke about Carles Puyol's announcement that he is leaving FC Barcelona at the end of the season, saying that "he is the kind of player a club very rarely comes across. Footballers like these are irreplaceable, although I am probably the least qualified person to be able to speak about him," referring to the short time that he and the player have known each other. The manager did admit, however, that "the club now needs to go out and look for a new centre back".[[CITA_2]]Another issue he was quizzed on was Leo Messi's vomiting in some recent games, to which the coach responded that "it's not a normal situation, but there's no cause for alarm. He's been seeing specialists although no solution has been found yet." In whatever case, Martino doesn't think the circumstances are likely to have any effect on Messi's ability to perform at his best.
Most of the players didn't get back until Thursday and some not until Friday
We have four games ahead of us in just two weeks and I don't want to overwork Jordi Alba