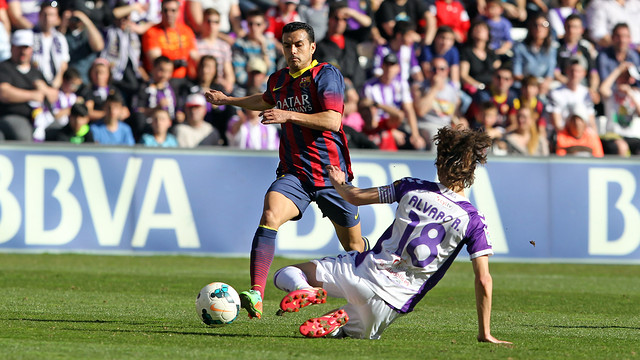 In Valladolid it was the third time in La Liga that Barça have failed to score
Barça had not lost two consecutive away games in the League since the 2007/08 season

At Valladolid, FC Barcelona sufferred the 4th defeat in La Ligah. The 1-0 defeat means that it is no longer in their hands if they want to be Champions. Here are the key stats from the game played at the stadium Nuevo José Zorrilla.
In Valladolid it wa sthe third time in the League that Barça failed to score. It also happened in Pamplona (0-0) and San Mamés (1-0).
Xavi was the player with most accurate passes (86), followed by Mascherano and Busquets, both with 82.
Mascherano played his 100th League game in Valladolid. In all competitions he's played 169.
It was the fifth time this season that Pedro, Messi and Neymar were the starting front three. The balance is three wins and two defeats.
FC Barcelona hae not lost two consecutive League games since the 2007/08 season, when they lost against Deportivo and Madrid.
Barça have not lost against Valladolid in the League since 2002/03, when they lost 2-1.
Leo Messi his run of six consecutive games scoring come to an end. Against Sevilla, Real Sociedad (Cup), Rayo Vallecano, Manchester City, Real Sociedad (League) and Almeria he had not failed to score.
Messi is the Barça player with most cosecutive games in the starting eleven. He has started in the last nine matches. Busquets has been in the starting eleen in the last six games.