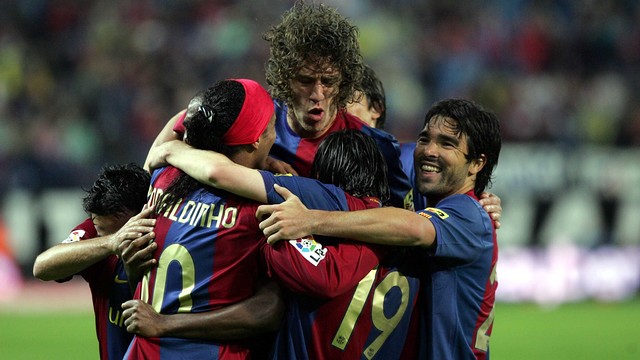 The legendary Brazilian wishes his former captain good fortune after Puyol announced his decision to leave FC Barcelona at the end of the season
Carles Puyol's recent revelation that he's leaving FC Barcelona at the end of the season caused an outpouring of support from fans and fellow players. The most recent voice to join the chorus for the 'Eternal Captain' belongs to FC Barcelona legend Ronaldinho Gaucho.
The Brazilian, who now plays for Atlético Mineiro, posted the following tweet this morning:
grande amigo dentro e fora dos gramados, @Carles5puyol, anunciou sua saída do Barça em junho!! Boa sorte, parceiro pic.twitter.com/9dxPv4GmRj

— Ronaldinho Gaúcho (@10Ronaldinho) March 7, 2014
The message reads: Great friend on and off the pitch, Carles Puyol, announced he'll leave Barça in June!! Good luck, mate.