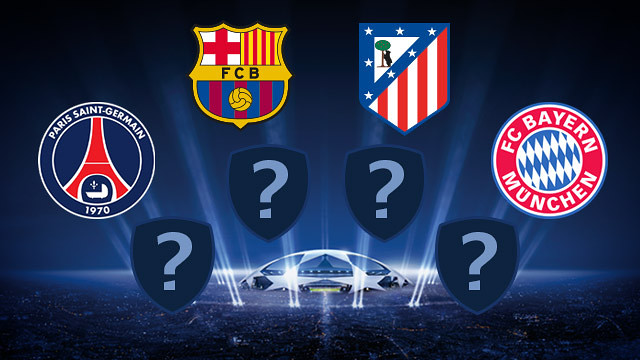 The Blaugrana have not lost a quarter-final match in for the past seven consecutive seasons
Here are the teams that have reached the next round of the competition: Atlético Madrid, Bayern Munich and PSG
Quarter-final ties
2012/13 season
PSG-FCB 2-2
FCB-PSG 1-1
2011/12 season
AC Milan-FCB 0-0
FCB-AC Milan 3-1
2010/11 season
FCB 5-1 Xakhtar
Xakhtar 0-1 FCB
2009/10 season
Arsenal 2-2 FCB
FCB 4-1 Arsenal
2008/09 season
FCB 4-0 Bayern
Bayern 1-1 FCB
2007/08 season
Schalke 04 0-1 FCB
FCB 1-0 Schalke 04
FC Barcelona are in the quarter-finals of the Champions League after defeating Manchester City. The teams that have qualified for the next round are Atlético Madrid, Bayern Munich, and PSG while there are four more teams that will reach the next stage in the coming week.
This is Barça's seventh consecutive quarter-final berth in the competition. The following is a list of stats and facts from Barça's previous Champions League campaigns.
The 2006/07 season was the most recent time Barça didn't qualify for the quarter-finals. They were eliminated by Liverpool. The English team won 1-2 at the Camp Nou, and finished up progressing despite Eidur Gudjohnsen's goal at Anfield (0-1).
All of Barça's rivals in the first knock-out round of the competition since the 2007/08 season have been different. Up until now, Barça have faced Schalke 04, Bayern, Arsenal Shakhtar Donetsk, Milan, PSG and Manchester City.
The biggest result from this round happened in the 2010/11 season. Barça defeated Shakhtar Donetsk by 5-1 at the Camp Nou.
Barça haven't lost any of their last four quarter-final ties: They've won seven games and tied five.
Four of the ties were played with the second leg at the Camp Nou, while the other two were played outside of Barcelona.
Only on one occasion, last season against PSG, Barça didn't need to win to reach the next round. The 2-2 result in Paris coupled with the 1-1 in Barcelona was enough to see Barça through.
In addition, since the 2007/08 season to the 2012/13 season, Barça have qualified for the semi-finals or have won the competition.