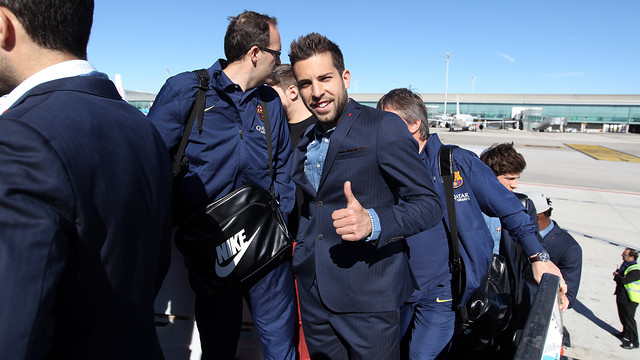 The team's plane took off at 10.47 this morning and landed in the Spanish capital just under an hour later.
The team were accompanied by Club President Josep Maria Bartomeu, four Club vice-presidents and five board members
Barça have arrived in Madrid after the squad accompanied by the Club President, landed at Barajas airport at 11.40 this morning. Once in the Spanish capital, the squad travelled to the team hotel ahead of tonight's nine o'clock kick off.
President Josep Maria Bartomeu heads the official party, alongside four vice-presidents, five board members and Club director general Antoni Rossich. President Bartomeu, vice-president Jordi Cardoner and the head of the Social Commission, Pau Vilanova, will present the Nou Espai Barça exhibition at the Melia Catilla hotel for local penyes and members, after which the traditional lunch for the two sets of directors will be held at the Ritz Hotel.