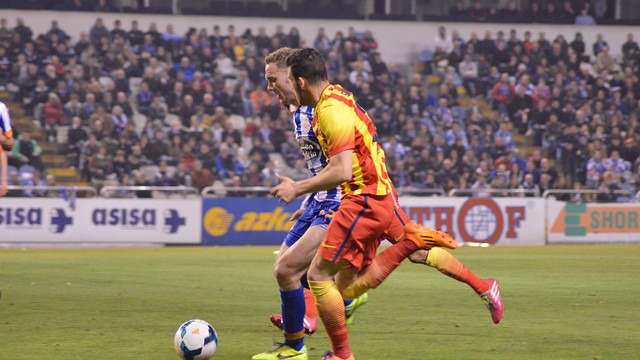 Eusebio's men were focused and played well away to Deportivo
MATCH FACTS
Deportivo, 0
FCB B, 0
Deportivo: Lux; Laure, Marchena, Lopo, Insua, Seoane; Álex Bergantiños, Juan Domínguez; Juan Carlos (Sissoko, min.62), Rabello (Núñez, min.84); and Toché (Luis Fernández, min.72).
Barcelona B: Masip; Patric, Sergi Gómez, Edgar Ié, Planas; Ilie, Bedia, Denis Suárez (Grimaldo, min.84); Dongou (Sergi Samper, min.71), Sandro Ramírez and Dani Nieto (Adama Traoré, min.62).
Referee: Ocón Arráiz
Barça B drew at the Riazor this Saturday with Deportivo de la Coruña. The team managed by Eusebio Sacristán fought toe to toe with their rivals and they spent most of the game in the final third of Deportivo's half. The Blaugrana sit on 41 points and they're comfortably in the upper half of the table.
Barça didn't shy away from the showdown with Deportivo, a team that have spent years in Primera and won the competition 14 years ago, this Saturday. Now in Segunda, the Galicia-based team are undoubtedly the best in the division, but they were unable to beat Eusebio's team, who were very focused in the first 45 minutes of play.
Chances to win the three points
Barça B managed to create a couple of clear chances in the second half, the best fell to Sandro Ramírez. The Spaniard nearly beat German Lux with a shot to the far post, but the attempt went wide. The Blaugrana continued to create chances but they were unable to net the go-ahead goal.