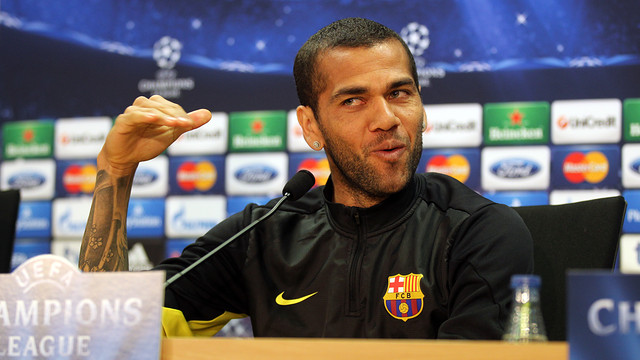 Alves warned that the team need to take a step up to beat a "tough to beat" Atletico Madrid
"We have to dominate possession, keep hold of the ball and have plenty of fluidity in our game".
Dani Alves spoke to the media ahead of tomorrow's Champions League quarter final first leg at the Camp Nou and although the opponents are also in the Spanish league, the Brazilian insisted: "playing Atletico Madrid is just the same as playing any other big European team and we'll have to take them very seriously. They are a very tough proposition, but these big games are what we are here for. We are two teams with different styles, but both are equally valid. We'll have to make a step up if we are to break our record against them this year and to get a good result at the Camp Nou".
Alves is well aware that Barça have yet to beat Atletico this season and warned: "it'll be a tough game – not just because of Diego Costa, Atletico have other high quality players and they play with such intensity, it's hard to master them. We have to dominate possession, keep hold of the ball and have plenty of fluidity in our game. If we have the ball, that limits their opportunities. Most of all, we have to make sure we keep a clean sheet".
[[CITA_1]]
Reflecting on the turnaround in the team's fortunes over the last couple of weeks, the Brazilian commented: "15 days ago it was as if it was all chaos and the world was about to end, but we showed we are a team who when there was talk of the end of a cycle, we just began another. You can't let the talk get to you. The way that we work, our ambition and the quality of our players is what defines this team. It sometimes feels as if people are always trying to find a weakness in the team, when we win it's because of the refs, when we lose it's the end of an era. Now there's criticism of the defence, but we are different from other teams and we know we have to take risks if we want to win – it's that attitude that has made us winners".
Alves also explained his gestures to the crowd a couple of weeks ago at the Camp Nou: "I got the feeling that the fans had stopped coming to the Camp Nou and I wanted to let the fans know that we have to be united to achieve our objectives. If we want to enjoy winning titles then we need to do work together – us on the pitch and them in the stadium".
[[CITA_2]]
Alves was then asked about his teammates Neymar and Iniesta: "Neymar has adapted here like the rest of us, the criticism has just come about since the details of his contract came out. You should value the work he puts in and what he brings as a player, not how much he cost. People demand more from players who they know can give more and I'm sure Neymar can do that. Iniesta was already a great player when I came here, but now he is even better and for all that he has brought to the game, he, like Xavi, should have won a Ballon D'Or"
Finally, Alves insisted that he was determined to do all he could to stay at Barça: "I'm feeling good and I am working the same as ever. Clubs are run like companies and it's only normal that they keep an out for alternatives. I want to prove people wrong though – there's been talk of finding another right back for three years now, but I'll try and stay here for as long as I possibly can".
Its as if when we win it's because of the refs, when we lose it's the end of an era
I want to prove people wrong though – there's been talk of finding another right back for three years now, but I'll try and stay here for as long as I possibly can tant com pugui