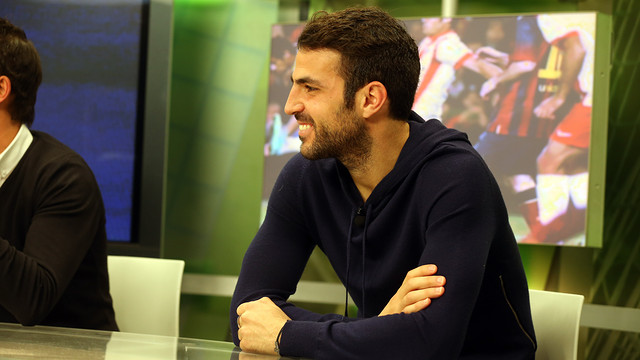 The midfielder believes FC Barcelona can win all their remaining matches and thus secure all three trophies
"I made a complete mess of the corner", admits Cesc when asked about Almeria's goal last night
Cesc Fàbregas is one hundred per cent certain that Barça can make a success of this season. "We have to improve, but it's all still in our hands" he said on the 'El Marcador' show on Barça TV. "We have 19 games ahead of us in the league, Champions League and cup, and if we win them all, then this will be a great season. We have to pull our socks up and show that we are hungrier than anyone else to win the league title. If we win every game we have left, we'll be champions … I like to think that we'll be there to the end in every competition. We have to treat these games like 19 finals."
Morale boosting win
Asked to speak about Sunday's 4-1 win against Almeria, Cesc said that "it probably wasn't our best game. We started well, but there were a few doubts in the last ten minutes of the first half, just after they scored. I think we controlled the second half. We could breathe more easily after the third goal … The win has boosted our morale, especially now that we are one point off the lead, and not three. We played good football again. Perhaps not for all 90 minutes, but for much of the game".
Self-critical
Cesc was also asked about the Almeria goal, for which he was largely to blame. "I made a complete mess of the corner" he confessed. "It was one of those games that we shouldn't have made difficult for ourselves because it was all under control. But they scored and we started to have doubts. We had worked so hard to score and then they scored without doing hardly anything. But the truth is that if we had taken the chances we have had in recent weeks, then we'd have scored a lot more goals than we have done".
"There are several world class players in this team" he continued. "I think it's all in our heads. There is no squad to compare with the one we have." On a more personal level, he added that "I am feeling fine. This season I have been physically and mentally stronger than ever. I feel important to the team and that builds my confidence. I always try to give it my very best. I'm very grateful to Tata, he's giving me tremendous confidence. I am understanding all of the other players much better too".