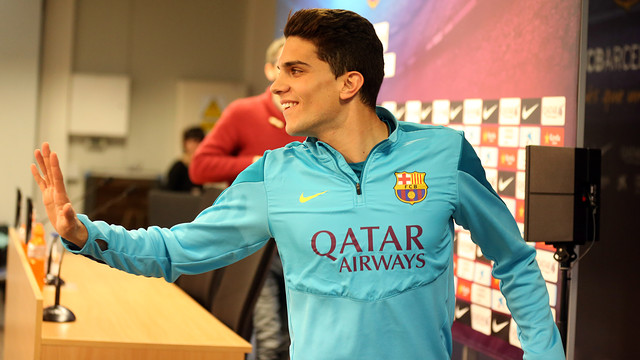 The centre back is sorry that Puyol is leaving after he has learned so much from his team-mate and captain
He announced that he is signing a new contract that will keep him at FC Barcelona until 2017

Marc Bartra is the latest of many players to pay tribute to Carles Puyol, who announced on Tuesday that he's leaving FC Barcelona at the end of the season. "It's sad news for us all" he said at a press conference on Thursday. "For the team because we've lost our leader, he's a captain from head to toes. And personally because he gave me so much advice and helped me progress in the game."[[CITA_1]]But he likes to see the positive side of things, commenting that "we haven't taken in the idea that he won't be with us next season. But there are still three months left and we have to be optimistic and learn as much as we can from him in that time".
Bartra says that Puyol has played a key role in his own growth as a player. "He helps me a lot on the field" he said. "After every move he gives me advice and after every game and every training session too. He has done a primordial job not just for me, but the whole team".
Asked whether Puyol's departure might open up more chances for himself as a centre back, Bartra spoke prudently. "I'd rather think about that at the end of the season" he insisted. "We still have four centre backs at the moment. If somebody new comes, I'll learn from him, while I have to keep proving that I can play at centre back here." Bartra explained how he knows that at Barça the demands are very different than they might be in other places.[[CITA_2]]Asked about the time he is getting this season, he said that "I am very aware of my position, that this is FC Barcelona and hardly anybody can say they have an undisputed place in the first eleven. I have gone through everything this season. There were times when I hardly played at all and others when I played loads of games in a row … The manager has played it so that none of the 20 players in the squad ever know if we'll be playing or watching from the stands. He's dealt with things very well and every week you are left guessing as to whether you'll get to start".
Bartra also revealed that he'll be a signing a new contract with the club next week. On January 15 it was already announced that it had been agreed that he will be staying on until at least June 30, 2017.
There are still three months left and we have to learn as much as we can from him in that time
If a new centre back comes, I'll learn from him, while I have to keep proving that I can play at centre back here