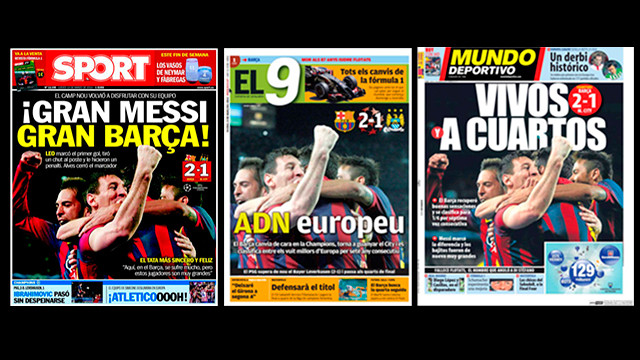 Catalan press single out Messi and Iniesta
"Leo Messi back to his best was again the star of the show"
Barça's win over Manchester City grabbed the headlines in the Catalan press, with the papers stressing the importance of the win after the defeat in Valladolid and signalling Leo Messi as the architect of the win.
El Mundo Deportivo reckoned the win was down to five key points: "1.Attitude and commitment, 2, The big name players made the difference, 3, Barça attacked City's weaknesses specifically their central defenders. 4. Barça used their intelligence and stayed calm, 5. The support of the Camp Nou crowd". In the same paper, Fransesc Aguilar signalled Messi and Iniesta as the "the two geniuses behind the win. Their quality was decisive in the key moments of the game. Lionel scored a superb opening goal, hit the woodwork and ran the defenders ragged, whilst Andrés was able to set up Alves for the second just as the tension mounted – and that after he'd been kicked all over the place all night".
Similarly, for Sport, "a Leo Messi back to his best was again the star of the show", whilst El 9Esportiu reckoned: "Messi knew everyone expected so much from him and since he is the best in the team and the best in the world, it was he who took the reins and improved the team's image and their performance". Whilst El Periodico headlined its match report"Barça breathe again"

In El Pais Ramon Besa wrote: "the Champions fanfare again served to wake up the team and the best Leo Messi. The best version of Messi again reigned over a big game, full of beautiful touches deserving of a Champions League night". For La Vanguardia, "Barça played together and were really up for the game, leaving a good impression after a tough game", whilst striking a cautious note: "Dr Jekyll turned up and Barça resolved what was a difficult tie. It was a deserved win and the team deserve to be in the quarter finals – now we 'll have to see if Mr Hyde plays on Sunday against Osasuna".