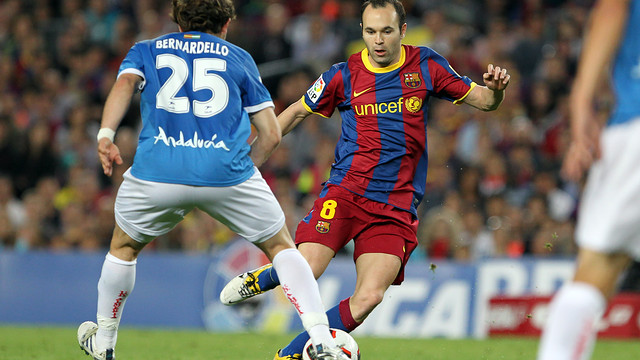 Barça has an excellent record against the Andalus club, consisting of nine wins and two draws
Barça has won all five matches played in the Camp Nou
Leo Messi has scored eleven times against Almeria

This Sunday, FC Barcelona will face Almeria in the Camp Nou (9 pm, C+). The two clubs have met eleven times before, the first of those encounters coming as recently as the 2007/2008 season, Almeria's first in the Spanish top flight. Barça's record in these matches could scarcely be better, with nine wins – including all five matches played in the Camp Nou – and two draws.
A great record
The two clubs first met in the 2007/2008 season, Frank Rijkaard's last as manager. Barça won 2-0 in the Camp Nou thanks to goals from Henry and Messi, the latter scoring just six minutes after coming on for Ronaldinho. In Almeria, the result was 2-2, Barça's goals coming from Bojan and Eto'o.
The following season, with Pep Guardiola at the helm, Barça won 5-0 in Almeria. The goals all came in a blistering 36-minute spell including a hat trick from Eto'o and a goal apiece from Henry and Alves. Barça then won the away match 0-2 thanks to a brace from Bojan. The 2009/2010 season wasn't quite so easy and Barça had Pedro to thank for a tight 1-0 win in the Camp Nou, though two goals from Leo Messi ensured a more comfortable 0-2 win in Almeria.
Goals galore
The two teams met four times the following season, twice in the league and twice in the semi-finals of the Cup, and Barça proved to be merciless in all four matches. In the league, they handed out an 0-8 demolition in Almeria featuring a Messi hat trick, two from Bojan, a goal each for Iniesta and Pedro , plus an own goal from the unfortunate Acasiete. They settled for a more modest 3-1 victory in the Camp Nou – Messi (2), Thiago– but Almeria ended up being relegated. In the semi-finals of the Cup, Barça won the first leg 5-0 (Messi 2, Pedro, Villa and Keita) followed by 0-3 (Adriano, Thiago and Afellay) in the second leg.
At the end of last season, Almeria won promotion back to the First Division. Barça returned to Almeria earlier this season and came back with a 0-2 win thanks to goals from Messi and Adriano.
Fighting for survival
At the moment, Almeria are just three points clear of the drop zone on 26 points – the same as Malaga, Elche and Getafe. They've won three of their thirteen away matches: Betis (0-1), Osasuna (0-1) and Valencia (1-2) but in the remaining ten matches they've managed just the one draw. Their top scorer is former Barça striker Rodri with seven.