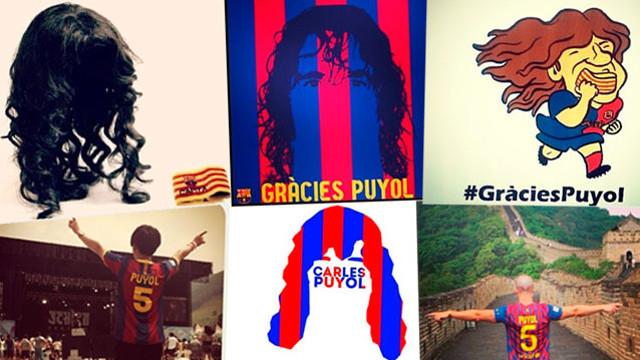 After the captain's decision to leave FC Barcelona was announced this week, team-mates, managers, the media and fans rallied to show their support to the outgoing center back
Saying that the 2014/15 season will be different is an understatement. This week Carles Puyol made a surprise announcement that he'd be hanging up the Blaugrana strip at the end of the season. The reaction to the captain's decision was as widespread as it was sincere.
"They can look all they want, but they'll never find the new Puyol"
After Puyol's midweek press conference, Gerard Piqué penned an open letter to his captain. The message is as follows:
You were my guardian angel.
The day has arrived. You are leaving. It's the law of life, but it is tough for me to imagine Barça without you. If I look back and remember Paris or Rome, the first image that comes to my mind is you lifting the European Cup. You gave the honour of lifting the trophy in Wembley to Abi, which just makes you even greater. My generation and those that come after do not know what the club will be like without Puyi in defence branding the captain's armband and the number 5 on the back of his shirt. I think that nothing will ever be the same.
I met you 6 years ago. You were the captain and the emblem of the team and I was just a kid arriving, set on conquering the world. From day one we had a great relationship, both on and off the field. By your side I felt protected and I knew that if one day I made a mistake you'd always be there to save me. You were my guardian angel.
I know that I will miss our talks in the locker room, your advice and especially you giving us hell on the pitch. You are unique; a one-off. I find it amusing when they talk about signing "the new Puyol". They can look all they want, but they'll never find it.
Thanks for everything, Puyi.
Puyol's departure makes waves on the internet
In addition to the outpouring of support from current team-mates and Club directors, Puyol has also received plaudits from the media, fans and former managers and players. The following is a selection of some of the more noteworthy pieces written about the center back:
Sid Lowe's Peerless Puyol departs Barça on his own terms
Guillem Balague's Talismanic Carles Puyol Was the Heart and Soul of Barcelona's Golden Era
Fancesc Tomás' An open letter to Carles Puyol
Johan Cryuff's video message to Puyol
r/Barça's Puyol Homage Thread
Robert Curtis and totalBarça staff's The view from our seat: Carles Puyol