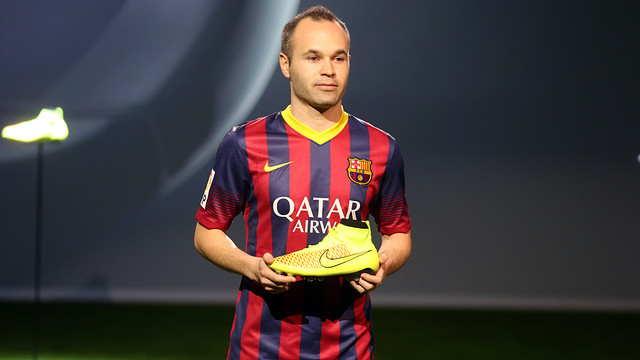 "Magista boots are like wearing gloves on your feet and you play more accurately", said the FC Barcelona midfielder at the city's new DHUB centre
Nike has launched its most innovative football boot design yet, Magista, at a presentation held in the new Disseny Hub Barcelona centre and attended by FC Barcelona star Andrés Iniesta.
The midfielder revealed the secrets of the new boots, which he says are "very innovative and totally fit around the foot" thanks to a technology called Flyknit. "The shape of the boot is totally different and makes your ankle much more comfortable" he added. The most remarkable outer feature is the extended collar that enables a much closer fit around the player's foot. "The Magista's mid-cut Dynamic Fit collar is not just a visually compelling innovation, it's designed to create heightened feel for the ball and enhance the player's touch", says Phil McCartney, vice-president of Sport Performance Footwear.
An extension of the player
Born from four years of R&D in the Nike Sport Research Lab and with feedback from some of the world's best attacking playmakers, including Barcelona's Andrés Iniesta and German forward Mario Gotze, the Magista boot is finally a reality. "We've designed a shoe that feels like an extension of the player's body. This isn't a boot that just goes on your foot, it's a boot that works with your foot", said McCartney.
Eliminating distractions
Meanwhile, Denis Dekovic, Nike Footwear Design Director, explained that "Magista boots eliminate distractions. When Iniesta is on the pitch his movements are dynamic and he needs to think about who he has to pass the ball to. His boots shouldn't distract him from that".
Andrés Iniesta hopes that his new Magista boots will "help to achieve everything … both for my club and for the national team. Let's hope I can celebrate a lot of conquests with these boots. And with the Champions League, Liga, Spanish Cup and the World Cup in Brazil all on the horizon, there are plenty of chances for Iniesta to get some conquering done in the near future."