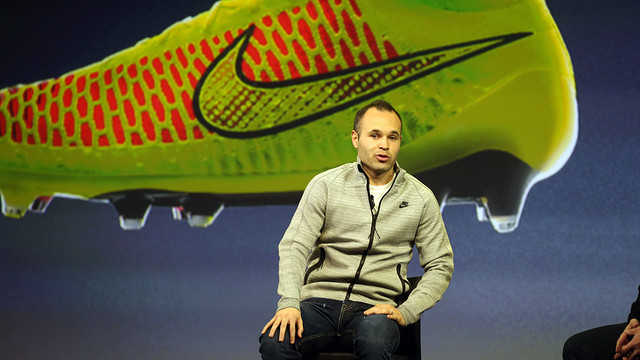 The midfielder has said that "if we don't want a nasty surprise, we'll have to play very well in the return leg" against Man City
On Puyol, he commented that "there is no need for words to describe him, nobody represents as much as he does"
Andrés Iniesta commented on Thursday, at the launch of Nike's new Magista boots that he'll be wearing at the World Cup, that "there are high hopes for this season. We're alive in three competitions, which is where we want to be every year, and we are as excited and motivated as ever about winning these titles. We'll fight to the end to try to win the lot".
Tough game
Iniesta, who turns 30 in May, also spoke about the Champions League tie with Manchester City. Despite starting with a two-goal head start at the Camp Nou on March 12, he expects the game to be "tremendously difficult … There are 90 minutes left to play against a team with some great players and if we don't want a nasty surprise, we're going to have to play a great game."
He added that "in football nothing is decided until the final whistle and we can't afford to make any mistakes".
Nobody like Puyol
Iniesta also mentioned Carles Puyol, who announced on Tuesday that he is leaving Barça at the end of the season. "It's not nice news" he said. "We'll try to end the season successfully and with him playing. There is no need for words to describe him. Nobody represents as much as he does."