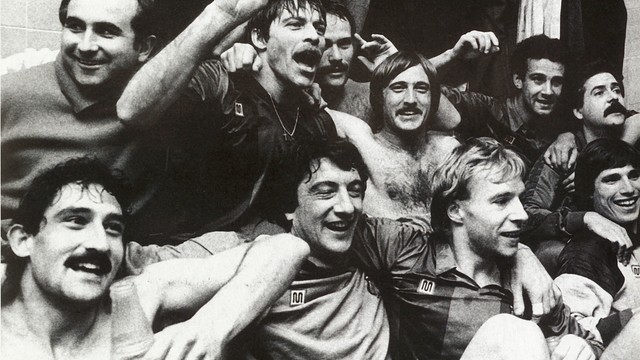 Urruti, Xavi and Puyol were among the stars of these four FC Barcelona games away to Valladolid
Valladolid and Barça meet on Saturday in a fixture that has plenty of history behind it. Here we pick out four particularly memorable encounters on Castilian soil.
1) 'URRUTI, I LOVE YOU'
The 1984/85 season was drawing to a close and after an eleven year drought, FC Barcelona knew that a win away to Valladolid would finally get the league trophy back in their hands. Clos and Alexanco had put FCB 2-1 ahead, but with just two minutes to go, a penalty was awarded to the home side.
Urruti saved 'Magic' González's spot kick and that was enough to mathematically secure the title with four games in hand. Iconic radio commentator Joaquim Maria Puyal's triumphant scream of "Urruti, I love you!" has since gone down in FC Barcelona folklore.
2) SIX OF THE BEST
FC Barcelona got their biggest ever win in Valladolid on May 24, 1992. The players were in a jubilant mood after winning the Club's first ever European Cup just four days earlier at Wembley against Sampdoria, and were welcomed onto the pitch by a guard of honour from the Valladolid players. Barça's goals in a 6-0 win were scored by Nadal (2), Koeman (2) and Stoichkov (2), but Real Madrid were still top of the table with two games to play. Barça went on to win their last two games and claim the title on the very last day thanks to Tenerife's famous win against Madrid
.


3) XAVI THE SAVIOUR
On December 20, 1998, Barça were in a desperate situation when they travelled to Valladolid. They had lost four games in a row and dropped to tenth in the table. But a late header from Xavi Hernández secured a 1-0 win that marked the turning point in the campaign. Barça went on from that to stage an extraordinary comeback by winning their next eight matches and ended up claiming the championship.
4) PUYOL'S DEBUT
Carles Puyol's career has several links to Valladolid. He made his first team debut at the Nuevo José Zorrilla on October 2, 1999 in a 2-0 win for FC Barcelona. He also scored his first ever league goal against the violet and whites, and now, the first game after his announcement that he is leaving the club at the end of the season will be in the city where it all started for him, Valladolid.