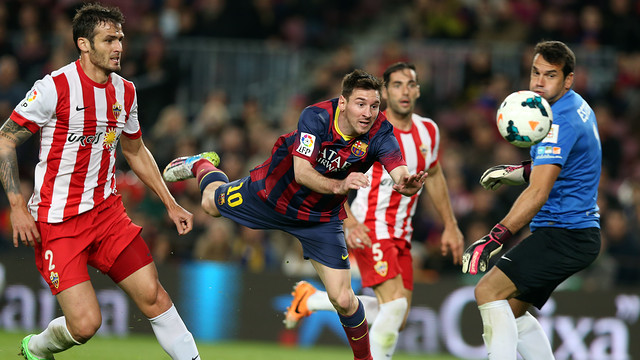 The Argentinian has played 265 league games for FC Barcelona, winning 200 of them, along with 41 draws and 24 defeats
The names of Messi, Puyol, Alexis and Xavi feature among the anecdotes from Sunday's league win against Almeria.
Messi has won 200 league games with FC Barcelona. In a total of 265 matches, the others have resulted in 41 draws and 24 losses.
---
Messi's goal against Almeria was his 230th in the league, making an average of 0.87 goals a game.
---
Messi has scored more goals against Almeria than any other player ever. In total, he has found the Andalusian net 10 times.
---
Xavi scored the last goal of the night from outside the area. It was his fourth goal of the season, the others having come against Levante (7-0) and Valladolid (4-1) in the league, and Ajax (2-1) in the Champions League.
---
Puyol has overtaken Migueli to become the player with the second highest number of Liga appearances for Barça (392). He is only topped by Xavi, with 464.
---
Puyol scored his second goal of the season last night against Almeria, and the first in the league. He hadn't scored a league goal since the first game of last season against Real Sociedad.
---
Puyol and Mascherano were the partnership in the centre of the FCB defence for the second time this season. They also teamed up for the cup match against Getafe at the Camp Nou.
---
Alexis is Barça's top scorer in the league with 16 goals, and is currently third in the overall table.
---
Alexis has scored the first goal of the night in eight league games this season. And he has also scored in five of the last six fixtures, against Malaga, Valencia, Sevilla, Rayo and Almeria).
---
Fourteen of Alexis's sixteen league goals have been scored at the Camp Nou. That's one more goal in the FCB stadium than he scored in both the last two seasons combined.