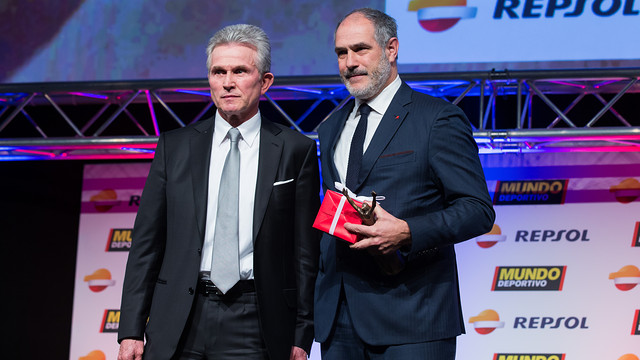 The ex-Bayern Munich coach delivered an emotional tribute to Vilanova as he presented the 2013 Manager of the Year Award
Ex Bayern Munich coach Jupp Heynckes presented the award for 2013 Manager of the Year to Tito Vilanova at the Gran Gala de Mundo Deportivo on Monday night. Before handing over the award to the Club's sporting director Andoni Zubizarreta, Heynckes vdedicated an emotional tribute to Vilanova.
"In me, you have a friend for ever"
"For me, it is an honour and a pleasure to be at this Gala, where I have the privilege of presenting this award to Tito Vilanova. With Tito, the team played fantastic football once again. He is a great football tactician, hard working, reserved and brave who has a direct and open relationship with is players. He has a positive sense of human values and his elegant example serves not just the world of sport, but society in general. We wish him the luck he deserves – you are a champions in sport and in life". Finally Heynkes echoed the 1992 Olympic Games anthem "Amics per Sempre" and told Tito: "In me you have a friend for ever".
Henkes also presented Andoni Zubizarreta with a goodwill message form Bayern Munich to be delivered to Tito Vilanova.