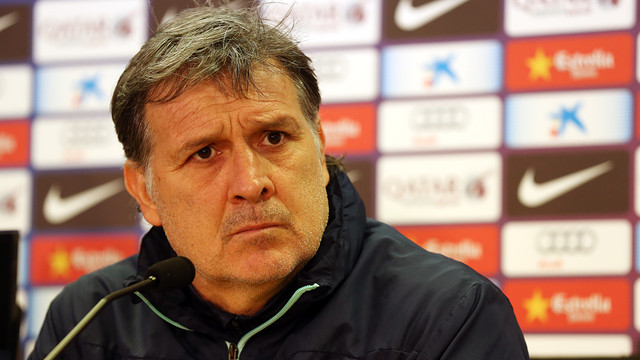 The FC Barcelona manager knows that the trip to Seville is one of the hardest away games of the season
He is hoping that his players can maintain their emotional balance and admits that "there is less and less margin for rotations"
Barça lost top spot in La Liga after losing to Valencia last week, which makes this weekend's game more important than ever. "It is a decisive game, the trip to Sevilla is more relevant than ever" said Gerardo 'Tata' Martino in his press conference today. "It's probably one of the hardest away games in the competition … But there is still a long way to go in the league".
He described Sevilla as "a very intense team, they work hard, and are strong at home. It was hard for us to beat them earlier this season … They work very hard on strategy".
One extreme to the other
Martino wants the team to lift itself following the pessimism of the last few days. "We have to focus on our squad" he commented. "We have to make ourselves strong. A lot can change in three days, we have gone from one extreme to the other. We need to maintain the balance".
"Our first half against Valencia was very good" he said. "But the second half was poor." He then added that he felt the team's performance in the cup match with Real Sociedad was "correct … but we need to take our chances better."
Decisive phase
Martino also explained that from now on his team selections are not likely to vary as much. "There is less and less margin for rotations" he said. "This is a decisive stage of the season and of course there are going to be fewer changes, although we'll still be giving chances to the players that are doing well." On the specific case of Andrés Iniesta, who has started the last two games on the bench, he said that "the normal thing would be for him to be in the team, and it's circumstantial that he has been left out of these two games".