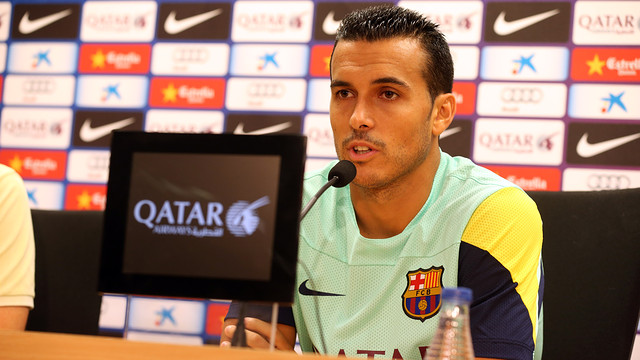 The Canary Islander knows how little margin there is for error and that "Sevilla made it very difficult for us at home"
On recent attendances at the Camp Nou, he doesn't think the kick-off times are helping but is "sure that the fans will respond"

FC Barcelona have one the trickiest road trips of the league season on Sunday. They are heading for the Sánchez Pizjuán and know that they are going to have to win after the serious setback of losing 3-2 at home to Valencia last week. "This game is of utmost importance" said Pedro Rodríguez in his Friday press conference. "We have a lot to play for. There is very little margin for error between now and the end of the season, we practically can't afford to make any mistakes."
The Canary Islander hasn't forgotten the meeting between the two sides earlier this season at the Camp Nou, where "Sevilla made it very difficult for us" and that the Andalusians, seventh in the table, "are having a great season".[[CITA_1]]Pedro Rodríguez admitted that the defeat against Valencia was a painful one. "It was a tough blow for us" he said. "But we need to look ahead. We'll be trying not to drop any more points because any mistakes will be well punished … We'll be doing all we can to ensure that things go to plan, but sometimes things work out better and sometimes they work out worse than you hope".[[CITA_2]]He also discussed the issue of dwindling attendances at the Camp Nou of late. "Of course we notice it" he said. "It is not the same to play in front of a packed stadium of 90,000 spectators as it is to do it with 38,000. The kick-off times don't help. We'd prefer to play at 8 in the evening … But I am sure the fans will respond as they always have done".
To conclude, Pedro Rodríguez spoke about the form of Leo Messi and Neymar. On the Argentinian, he commented that "he seems motivated and keen to continue improving" while the Brazilian appears to be "happy because he can sense that he is recovering".
If he is picked on Sunday, Pedro Rodríguez will be making his 250th appearance for the first team.
Sometimes things work out better and sometimes they work out worse than you hope
The kick-off times don't help. We'd prefer to play at 8 in the evening