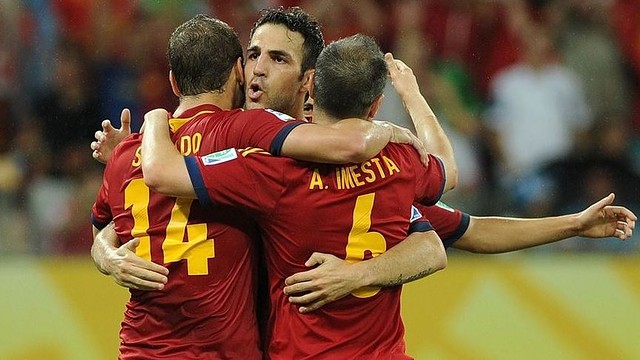 Valdés, Jordi Alba, Busquets, Xavi, Iniesta, Cesc and Pedro are in Vicente Del Bosque's squad of 22
Spain have a friendly with Italy on March 5 in Atlético's Vicente Calderón stadium
Barça B internationals
Apart from the fourteen Barça players that have been called up for full internationals, several other FCB players will be playing internationals at different youth levels in the first week of March:
– Spain (U21): First team player Sergi Roberto plus Sergi Gómez and Denis Suárez of the B team will be appearing in a friendly on March 5 against Germany in Palencia, the first game since Denis Suárez took control of the U21 team.
– Spain (U19): Sandro, Munir, Grimaldo and Adama will be playing in the March 5 friendly against Holland in Katwijk.
– Macedonia (U21): Babunski will be playing in a friendly against Portugal on March 5 in Barcelos.
This Friday lunchtime, Spain manager Vicente del Bosque announced his squad of 22 players for the March 5 friendly against Italy. As usual in recent years, there is a major presence of Barça players. This time, he has called on the services of seven: Víctor Valdés, Jordi Alba, Sergio Busquets, Xavi Hernández, Andrés Iniesta, Cesc Fàbregas and Pedro Rodríguez.
The game will form an important part of the national side's preparations for the 2014 World Cup in Brazil, for this is the last game before Del Bosque has to announce his pre-selection of 30 players for the tournament that kicks off on June 12, with Spain in Group B along with Holland, Chile and Australia. It is also the last set of friendlies before international football is put on hold until the end of the club season, when the 32 finalists will be able to start focusing fully on the World Cup.
Other FCB internationals
Spain are not the only team playing friendlies in the first week of March. Alejandro Sabella has already announced that Leo Messi and Mascherano will be in the Argentina squad that faces Romania, while Luiz Felipe Scolari plans to use Dani Alves and Neymar Jr in Brazil's game with South Africa.
And Cameroon coach Volker Finke has named three Barça players, Song, Dongou and Bagnack, in his side for a game in Leiria against Portugal, like the above matches, to be played on March 5.