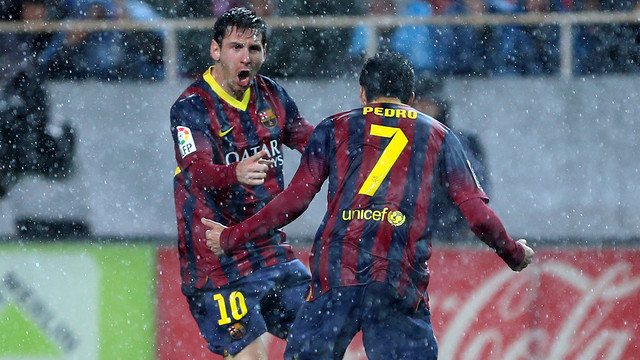 Barça overcome the elements to re-take top spot in Seville
Goals from Alexis, Messi (2) and Cesc give Barça the win
A vital win for Barça at the always tough Sanchez Pijuan puts them back on top of the table – a spot they'd held all season until last weekend. Although Martino's side weren't as dominant as normal tonight, they showed a lethal finishing touch up front to come back from the hosts' early strike with Alexis, Messi –two lovely goals – and Cesc gave Barça the win.
In the first half, Seville had four clear chances and only put one away, whilst Barça finished off the two opportunities they had to go in with a 1-2 lead. Seville had come out looking sharper and more aggressive, creating plenty of problems for Barça, as they tried to bring out the ball with their aggressive pressing.
On the quarter hour Seville took the lead thanks to an unlucky rebound off Bartra as Alberto Moreno shot from the edge of the box, With their tails up, Seville now saw Bacca (min 20) hit the woodwork and Rakitic drag a great chance wide (min 28).
However, it was Barça who took the game by the scruff of the neck and began to create chances, and Alexis equalised on 33 minutes, when Alexis, possibly offside, put away a Messi free kick. With the rain pouring down, Seville lifted their game again and Valdes saved the team with a point blank save before Messi rounded off a counter with a well hit drive from the edge of the box to give Barça the lead at the break.
Half time came just in time, as the rain and wind intensified and with the elements easing off, Barça were lucky to see a great chance for Vitolo spurned at the start of the second half. Alexis then shot wide before Valdes, with a double stop, again came to the team's rescue, as both sides upped the stakes and the pace of the game.
With Seville committed to attack, Iniesta was able to set up Messi on 55 minutes to make it 1-3 and the two then combined with Xavi to stamp some shape and authority on the game, as Barça looked the more likely to extend their lead, rather than Seville to pull back. Seville always carried a threat though, but it was Barça who wrapped up the game with number four on 87 minutes when Cesc brilliantly chipped the keeper from an Alexis cross.