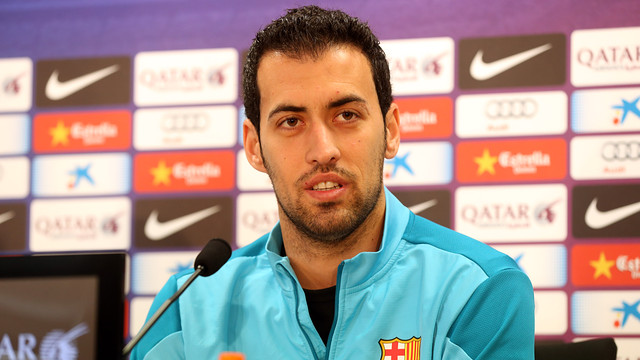 Busquets insists that the team can't afford to drop any league points
The Catalan midfielder reckons: "we're not yet at our best".

Sergio Busquets is well aware that anything other than a win at Anoeta on Saturday could complicate the team's league position and when speaking at Thursday's press conference about the match against Real Sociedad and the current state of the team, he insisted: "we will pay a high price for any draw or defeat in the league ," said Sergio , " Real have a great team and it's always a tough place to play."
Sergio also reckons we've yet to see the best of this Barça team, despite their great win against City: "after the Valencia game, it was as if it was the end of the world and three weeks later it's all perfect – that's not the way it is, We're not yet at our best and we weren't so bad against Valencia", Busquets also believes that with an extra midfielder means the team: "don't suffer so much and the pitch doesn't seem so big".
City still pose threat
Looking back at Tuesday's win, Busquets explained that: "City are an attacking team and you need these big games in the Champions League. They maybe have it easier in the Premier League as they like, but in Europe a lot depends on your opponents. In the second leg, City will attack even more -they are away from home and they have to score".
Finally, Busquets spoke about Leo Messi and his return to the side: "for us, Messi is the best. We know it might take a while for him to get to 100%, but he's improving with every game. He will be the best player in the world as long as he wants. With Messi in the side, we have the chance to win every title".