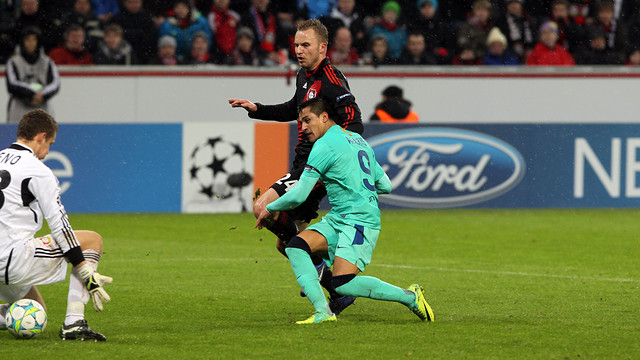 Previous to this Tuesday's win away to Manchester City, the only time FC Barcelona had won the first leg in the round of 16 in the last six years was against Leverkusen in 2012
For just the second time in six years FC Barcelona return from the first leg of a round of 16 Champions League tie with a victory. The first time was two years ago against Leverkusen, when goals from Alexis (2) and Messi earned the Blaugrana the win in Germany (1-3).
Recent history shows that this particular round in the competition hasn't been necessarily easy for Barça seeing that last year the first team fell 2-0 at the San Siro against Milan, three years ago they lost 2-1 to Arsenal and in the 2009/10 and 2008/09 seasons they drew 1-1 with Stuttgart and Lyon, respectively. Despite the defeats and draws, Barça have always progressed to the quarter-finals.
No defeats in the second leg
FC Barcelona have won the first leg of a European tie by 0-2 on eight occasions, and they've always made it to the next round. Furthermore, Barça have never lost a second leg of a tie at the Camp Nou that started with a 0-2 result from the first leg. An overview of the second leg results after a 0-2 victory in the first leg:
European Cup 1959/60
FC Barcelona 5-1 AC Milan
Fairs Cup 1961/62
FC Barcelona 4-1 Estrella Roja
Cup Winners Cup 1963/64
FC Barcelona 3-1 Shelbourne
UEFA Cup 1980/81
FC Barcelona 1-0 S. Wanderers
UEFA Cup 1986/87
FC Barcelona 2-0 Bayer Uerdingen
Cup Winners Cup 1988/89
FC Barcelona 5-0 Ram Reikjavik
UEFA Cup 2000/01
FC Barcelona 1-1 Club Bruges
Champions League 2010/11
FC Barcelona 1-1 Real Madrid