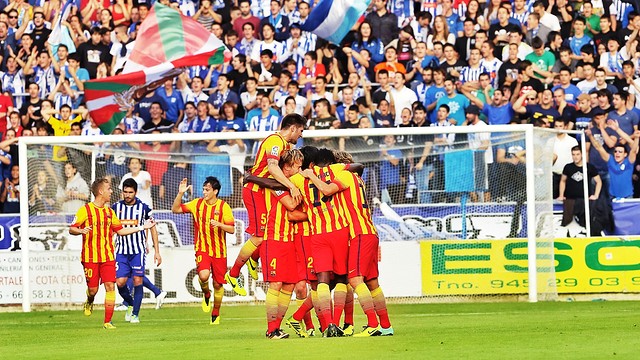 Adama was the man of the match with an assist and a goal
MATCH FACTS
Real Zaragoza, 0
Barça B, 2
Real Zaragoza: Leo Franco, Álvaro, Laguardia, Cortés (Fernández, min 21), Barkero (Álamo, min 59), Roger, Luis Garcia (Víctor, min 46), Montañés, Paglialunga, Acevedo and Rico.
Barça B: Masip, S. Gómez, Patric, Planas, Dongou (Sandro, min 64), Espinosa, Bagnack, Samper, Denis, Edu Bedia (Babunski, min 86) i Adama (Grimaldo, min 91).
Goals: 0-1, Denis, min 6; 0-2, Adama, min 60.

Magisterial display from Barça B at La Romareda. Eusebio's men were impeccable in the first half and a goal from Denis at the six-minute mark gave Barça B the lead. In the second half, Adama doubled Barça's advantage.
Flying start for the Blaugrana
Barça B were decisive in the opening minutes of the match, and they were rewarded with the go ahead goal after only six minutes when Adama found Denis in the area. Eusebio's men could have netted additional goals before the break but Leo Franco was nearly unbeatable.
Adama seals the win
In the second half, FC Barcelona B were led by Adama. "The Arrow of L'Hospitalet" took advantage of a rebound in the area, beat his man, and fired past Leo Franco for the definitive 0-2.