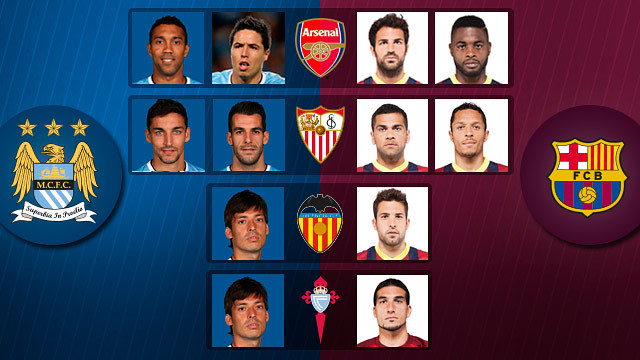 The eleven City and Barça players that have a shared history
The Champions League is back, and it kicks off with a delicious match between Manchester City and FC Barcelona. In addition to everything that's at stake, the match at the Etihad will also be a night of reunions as eleven City and Barça players have a shared history:
---
Four former Arsenal players. Gael Clichy (2003-11), Cesc Fàbregas (2003-11), Alex Song (2205-12), and Samir Nasri (2008-11) are the four former Gunners. Clichy and Cesc played together for eight years. Along with Song, they featured for Arsenal in the final of the Champions League against Barça. The four players shared the dressing room from 2008 to 2011, an era in which Arsenal didn't win any titles.
---
Navas, Alves, Adriano and Negredo, together at Sevilla. The best years in Sevilla's recent history coincided with Jesús Navas (2003-12), Dani Alves (2002-08) and Adriano Correia (2004-10) featuring at the Ramón Sánchez-Pizjuán. Navas and Alves ruled the right wing and Adriano was the box-to-box player for the team that won two UEFA titles, one European Super Cup, two Copas del Rey and one Spanish Super Cup between 2006 and 2007. Negredo (2009-13) joined the Andalusian side after Dani Alves had signed for FC Barcelona.
---
Two exquisite left-footed players at Mestalla. David Silva (2006-09) and Jordi Alba (2009-12) played together at Valencia for one season, in 2009/10. Silva played out his final year at the club while it was Alba's first season in Primera División. Now they are two of Vicente Del Bosque's go-to men in the Spanish national team.
---
The Euro – Pinto and Silva's Celta. A year before David Silva left for Valencia (2005-06) he was on Celta's roster along with José Manuel Pinto (1998-08). That year the team finished sixth, thus earning a UEFA Cup berth. Pinto won the Zamora trophy that season.