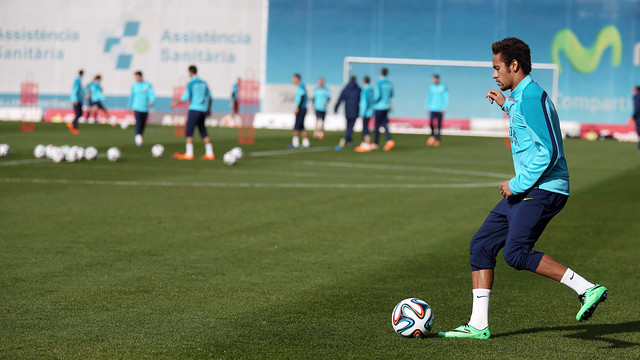 On Monday morning the team returned to training in preparation for Wednesday's cup game with Real Sociedad at the Camp Nou
All of the available players were present, with Neymar working out in isolation
Oier Olazábal started doing goalkeeping exercises
Neymar Jr, who last week returned to doing field work, has continued to recover and on Monday was able to train with the ball. The Brazilian was on pitch number 1 at the Ciutat Esportiva in the company of physio Juanjo Brau, who has been overseeing his recovery from a sprained ankle sustained against Getafe.
Tata Martino called his players in for training on Monday in preparation for the cup semi-final with Real Sociedad at the Camp Nou on Wednesday. All of the available players were in attendance.
While Neymar worked in isolation in another part of the training ground, another of the injured players, goalkeeper Oier Olazábal, did exercises in goal for the first time since his recovery commenced.