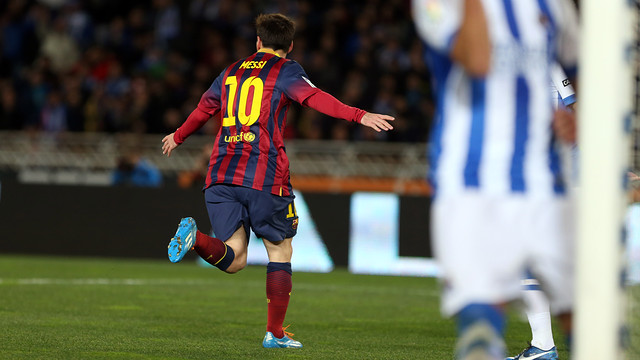 A goal from Messi secures passage to the final of the Copa del Rey. Barça will face Real Madrid on April 19
This Wednesday, in Anoeta, FC Barcelona managed to book a spot in the final of the Copa del Rey, which means they'll face off against Real Madrid on April 19. The team managed by Gerardo Martino preserved their 2-0 advantage and they qualified without too much difficulty. When push comes to shove, this team responds: they are in the final after having won seven of their eight Cup matches this season and with Leo Messi, who scored the go-ahead goal in San Sebastián, as the highest goal scorer of the competition. In the final minutes of the match Griezmann netted the equaliser, but it was too little to late to trouble a Barça side that had completed one of the best first halves so far this season.
For the second time this year, Martino sent out a starting line-up that featured Xavi, Iniesta, Cesc and Messi. The mission was to retain the ball and not let Real Sociedad create enough chances to get back in the tie. The plan worked to perfection, because the Blaugrana turned Anoeta into a giant 'rondo' – Real could only chase behind the ball.
The team's good performance bore its fruits after 26 minutes, when Leo Messi scored to give Barça the lead. He recovered possession in the middle of the pitch and raced toward goal before he fired from just outside the area past the Real Sociedad keeper.
The goal hurt Real, who found themselves needing four goals to reach the final. However, Arrasate's men showed their character as they attempted to fight back, and minutes later Vela's shot was cleared off the line by Alves.
The intensity dropped in the second half, but the chances kept on coming. FC Barcelona took advantage of the spaces left by a Real side that was desperate to score. Iniesta, Alves, Messi and Cesc all enjoyed chances to score. Finally, a shot from Griezmann led to the definitive goal of the match. The tie was over when Messi had scored in the first half.
Therefore, Barça and Madrid will once again meet each other in the final of the Copa del Rey. Kick off is in 65 days. The countdown begins now.