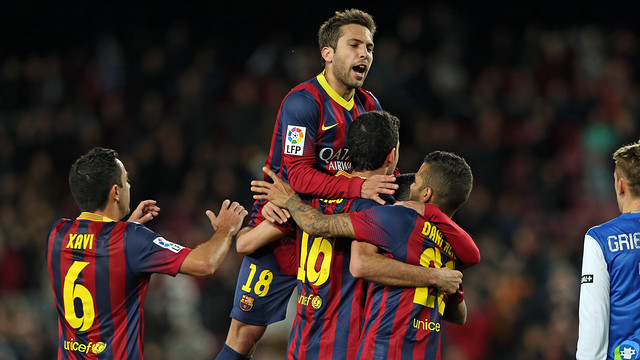 FC Barcelona are one step closer to the final of the Copa del Rey thanks to goals from Busquets and Zubikarai (og)

This is the Copa del Rey. This Wednesday the Camp Nou experienced a match that had it all, from the stands to red cards to plays that bordered on the nonsensical, like Barça's second goal of the night. Gerardo Martino sent in a nearly identical team to the one he fielded on the weekend, only Valdés – who was replaced by Pinto – wasn't named to the starting line-up.
Home team come close to the 1-0
The match started off with a scare for the home team as Griezmann nearly nicked the opener. His powerful shot was parried away by Pinto, who had little to do for the next 35 minutes. During this time Barça managed to isolate Vela and the Frenchman. FC Barcelona created a plethora of chances, especially when Alba and Alves joined in on the attack, but Zubikarai, the woodwork (Messi hit the crossbar), and the Catalans' poor accuracy kept Barça off the board.
From Pinto to Busquets
The game could have changed in the blink of an eye. Real Sociedad launched a counterattack, and Vela nearly scored if it hadn't been for Pinto's great save. The following minutes saw Barça score the go-ahead goal when a loose ball found its way to Busquets, who scored by tapping it past the Basque keeper. As Barça celebrated the goal, Real Sociedad were reduced to 10 men when Iñigo Martínez was given his marching orders for dissent.
Unbelievable 2-0
Real Sociedad started the second half without two of its three starting defenders. In addition to Martínez's expulsion, Mikel had to be subbed out due to injury. With a one-man advantage, FC Barcelona pinned the visitors back.
The home team's second goal came when Cesc's incisive pass sent Alexis through on goal. The Chilean's shot bounced off the post, but Elustondo's clearance ricocheted off his own keeper into the back of the net .
Now FC Barcelona will have make good on their 2-0 advantage when they travel to Anoeta next Wednesday.